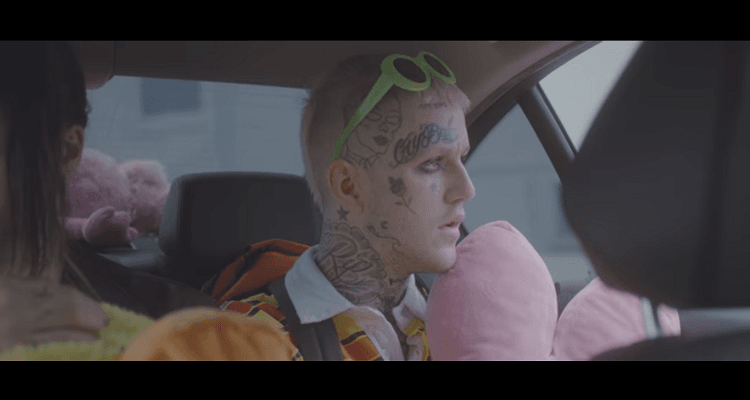 In less than two week's Lil Peep's family has already cashed in on the rapper's legacy.
For the week ending December 9th, Lil Peep landed on the Billboard Hot 100 with the single, 'Awful Things.'  The track debuted at No. 79, marking the first time that the late rapper ever managed to appear on the Hot 100.
Following the rapper's unexpected death, possibly from Xanax contaminated with fentanyl, downloads for the single have skyrocketed.  Billboard reports that the song's streams rose 144% to 8.2 million in the United States.  Downloads sold also went up to 3,000, a 190% increase.
Lil Peep first debuted on the Billboard charts last June.  The singer hit No. 10 on the Social 50 survey.  His last album, Come Over When You're Sober, Part 1, landed at No. 23 on Rap Album Sales.  The album debuted on the Billboard 200 at No. 168 for the week ending December 2nd.
Now, the rapper's family may be cashing in on his legacy.
Less than two weeks have passed, and already, the family is selling merchandise to "honor Peep."
Lil Peep (whose real name was Gustav Ahr) passed away two weeks ago today.  Yesterday, the estate for the deceased rapper announced that they would release officially-licensed merchandise.
Stating that "fan demand" had caused the late rapper's family to release merchandise so early after his death, an Instagram post reads,
"To all Lil Peep fans,

Peep has the most amazing fans in the world and we love you all.

Merchandise wasn't something that we were ready to release so soon because we were focused on grieving, and organizing a celebration of Gus' life.

However, we have been overwhelmed with requests from loving fans hoping to support Gus and his family by purchasing legitimate Peep merchandise.

To ensure authenticity, all official merchandise about Lil Peep merchandise, music, or any other art forms, will come from Lil Peep's official verified accounts on Instagram, Twitter, and Facebook.

All of Peep's social posts, prior to November 16th, will remain intact.

If it's not on his socials, then it hasn't been approved.

Peep loved designing and selling his merch and always wanted to help out his fans when they asked for reprints.  We will continue to honor Peep's memory by carrying on as we believe he would have wanted.

Rest in Peace, Gus."
---
Featured image by Lil Peep (YouTube screengrab)