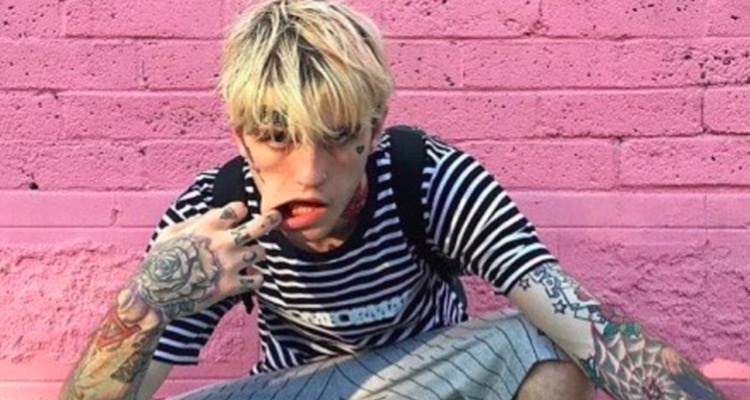 Tucson police are now considering foul play in Lil Peep's death, including the possibility of homicide.  At least one 'person of interest' has already been named.
It looks like the sudden death of fast-rising emo/hip-hop star Lil Peep isn't quite stacking up.
According to details shared this morning with Digital Music News, local investigators are actively considering the possibility of foul play.  That includes potential criminal activity by a third-party individual (or individuals).
Rolling Stone has also been looking into this, and received a terse statement on the matter.   "We're looking into the allegations that somebody was linked to his death," Tucson Police Department Sergeant Pete Dugan offered.  Lil Peep (real name Gustav Ahr) was found dead shortly before playing a show in the area, which firmly plants the case in the city's jurisdiction.
The police statement is decidedly vague, though 'somebody linked to his death' could indicate an actual homicide, or an assisted suicide.  A dealer may also face charges of lethally lacing the pills in question.
A fourth possibility is that a fan handed Peep the lethal hit, intentionally or otherwise.  All are criminal offenses with varying penalties.
Enter Mariah Bons, now a 'person of interest' in the death of Gustav Ahr.
Bons was apparently in Peep's tour bus right before he died.  She may have given Ahr the lethal dose that ended his life, intentionally or otherwise.  Accordingly, investigators are now looking into Bons involvement following the discovery of these text messages:
 "GBC [Lil Peep] high af because of me and my friend lol."
"He passed the fuck out my brother called and I tried to get him to say hi to my brother but he wouldn't wake up."
Lil Peep took his last hit last month.
Immediately after his death, Tucson police pointed to a massive dose of Xanax.  Just days later, sources to Digital Music News pointed to a nasty concoction of Xanax, cocaine, mushrooms, and even concentrated THC.  It's actually difficult or impossible to overdose on any one of those, though in combination the effects can be disastrous.
Moments after that leak, a drug expert blamed fentanyl for the death.  The nasty opioid is lethal in tiny doses, and actually claimed the life of Prince.  "Fentanyl is a substance that is very deadly in low doses, and it's being found contaminating drugs like cocaine and even MDMA to alprazolam," the expert noted.
"It's just littered all over the drug scene right now."
Tucson police are undoubtedly considering fentanyl in their investigation.  But the contamination opens more questions than answers.
21 year-olds 'don't just die'.
One component of this investigation is being drive by Ahr's age.  At just 21, the sudden death seems extremely suspicious, if only because younger-20s people survive more often than not.  Indeed, it's actually hard to kill a 21 year-old, with death rarely happening though medical causes outside of incidents like automobile accidents, plane crashes, and other maladies.
All of which makes Peep's rapid shutdown suspicious.  Just last week, it emerged that Peep was merely 'taking a nap' before an upcoming show — then flatlined.
All of which suggests the influence of more than just some errant fentanyl.
More as this develops.
---