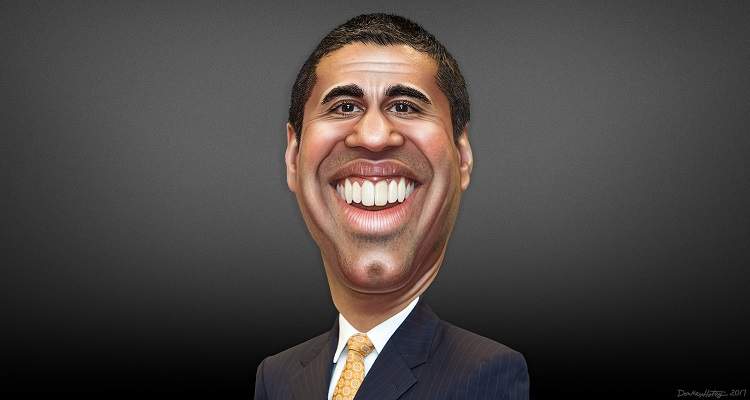 Indian-Americans attack Ajit Pai's lack of "Indian-ness" over his position on net neutrality.  Oh, and death threats.
Most people aren't happy with Ajit Pai.
The FCC Chairman set off a firestorm after introducing his proposals last week to dismantle Obama-era net neutrality rules.  Across multiple news outlets, you'll find the following headlines:
Who is Ajat Pai, the "Trump soldier" remaking America's internet?

FCC chair Ajit Pai Doesn't Seem to Know How the Internet Works

FCC Chair Ajit Pai Can't Come Up With a Single Plausible Reason Not to Screw Up the Entire US Internet
Ajit Pai's children have also come under fire.  Outside his home in Virginia, net neutrality activists put up a sign that read:
"They will come to know the truth.  Dad murdered Democracy in cold blood."
Acknowledging the criticism, Pai asked people to remain neutral about the policy changes, and avoid crossing personal boundaries.
"It was a little nerve-racking, especially for my wife.  Internet regulation activists have crossed the line by threatening and harassing my family.  They should leave my family out of this and focus on debating the merits of the issue."
In fact, the criticism has gotten so bad, Ajit Pai and prominent House Republicans have received death threats.
Now, the Indian-American community has reportedly launched xenophobic and racist attacks at the FCC Chairman.
Under fire from your own community.
After Pai introduced his plan, comedian Hari Kondabolu, a fellow Indian-American, attacked the FCC Chairman's anti-'Indian-ness.'  He wrote on Twitter,
"Ajit Pai is the type of Indian guy who eats dosa with a fork."
His statement caused other users on Twitter to join in. Users wrote that Pai called "chai…chai tea," "thinks Lassi is a dog" and says "Naan bread."
Guess all of those are huge insults in the Indian-American crowd.  Or at least some good jabbing.
After Indian-American organization Indiaspora stepped in to defend Pai, Kondabolu doubled-down on his criticism. Posting a faux apology, he wrote,
"Dear @AjitPaiFCC, I apologize for my tweets questioning your "Brown-ness."  You are not a disappointment to Indian Americans…but to all Americans.  You can eat a pakora while destroying #NetNeutrality.  You can wear a kurta while catering to corporate interests. #AjitPaiSucks."
Indiaspora member and leader, Shekar Narasiman, a top Democratic strategist, rushed to Pai's defense.  Slamming anyone who criticized Pai over his race and religion, especially Kondabolu, a statement on Indiaspora's website reads,
"Irrespective of your political leanings, behavior and threats against individuals for their actions are unacceptable.  We should have zero tolerance for hate and xenophobia whether it's directed from the left or right.  It's un-American and against all the tenets of our great religions.
---
Featured image by DonkeyHotey (CC by 2.0)