Much-celebrated band Tool says they're on the verge of dropping a new album.  And they insist it ain't just more idle gossip.
In the jungle that is today's music business, it's rare that an artist's works are so cherished.  That years after your last release, you can still remain relevant and have fans thirsting and pining for your music.  Just ask Iggy Azalea, et. al.
But Tool is one such band.
The last official act by the revered metalheads was in 2006.  10,000 Days had fans rocking to the intoxicating riffs and runs in "Vicarius," "The Pot" and other sizzling tracks from what was a Platinum-certified, Grammy-award-winning album.
Tool followers didn't just listen to the band. They experienced their content.
A decade and two years later, those fans are still pitifully throat-parched.  There's nothing out there to help pacify the Tool Army.  Not the side projects by lead singer Maynard James Keenan.  Not the scores of Tool cover bands and their admirable but ultimately futile attempts to reincarnate the legendary band.
But, arguably, what's an even bigger frustration to the fans than all the silence, is the vicious cycle of having their hopes raised and then crashed.  Again and again.
Year after year MJK and co. have teased a new album. They're the boys who cried album and left expectant hearts high and dry. There's a sea of colorful memes out there that accurately depict the fans' sentiments.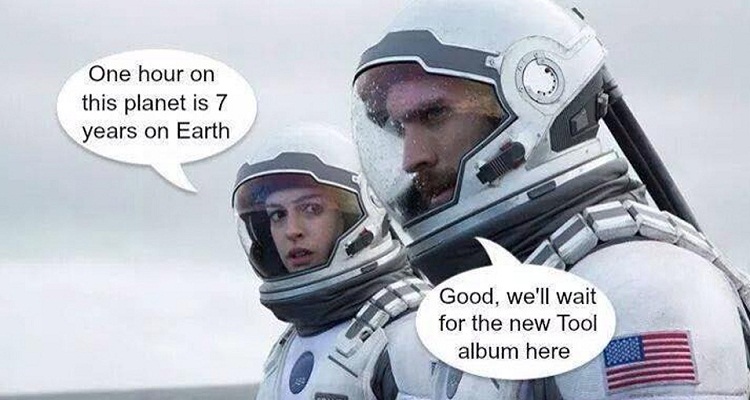 However, being a Tool fan can also be extremely rewarding, and they're about to find out why. Because there's nothing as gratifying as waiting for something for 12 solid years and finally getting it.
All the recent evidences out there suggests that Tool are really, truly and finally about to release their long-awaited album.
Drummer Danny Carey promised in December that the new album would drop in the first half of 2018.
In January, in an Instagram livestream, band frontman MJK revealed that the album's "music is done" and "lyrics [are] coming in hard".
MJK has explained that the delay in the lyrics writing is due to the writers' "indecisiveness". "They keep changing their minds. I don't know if it's a good thing or a bad thing, it's just their process," he says. "They're always going back over things and questioning what they did and stepping back and going back further." MJK's explanation would suggest work is being done – heavy work.
+  Why I'm Starting to Think Tool Is Totally Losing It
Earlier this month, Tool's official Facebook announced that the band had finally returned to the studio to record their latest work of art. "After all the years of writing and arranging (and re-arranging) at the band's loft, I can at this time officially report that the guys have moved into a major studio where the recording process for the next album is about to begin in earnest," their statement said.
Finally – and this is the big one — guitarist Adam Jones shared a video of a studio tech in the studio in full writing/recording mode on Friday.
The clip, on which the tech sits brooding over a pen and notepad, is stocked with a ton of recording equipment including an Access Virus synthesizer and a Moog Taurus bass pedal.
https://www.instagram.com/p/Bgp5ka3nhBa/
That would imply that even in this age Tool will record this album in analog. And because nothing ever comes easy with them, the audio on the clip is muted.
Jones' explanation was that he didn't see the need to "spoil the fun."
Having worked on 10000 days, "Evil Joe Barresi", is still the record engineer behind this overly gestated project.
One of the lucky few to be given a sneak peek of the new work is Rage Against The Machine guitarist Tom Morello.
According to Morello, the album sounds "epic, majestic, symphonic, brutal, beautiful, tribal, mysterious, deep, sexy and VERY Tool".
Former Skid Row frontman Sebastian Bach has christened it  "progressive metal at its most atmospheric."
Jones' Insta post has been re-blasted by the alt-metal heavyweights' official website.
It would appear, then, that Tool have decided to quit being such a tool and just furnish the crowd with the poison they so crave.
---