Spotify's direct listing on the New York Stock Exchange is now complete.  The results?
Spotify has now finalized its unusual direct offering, with shares landing at an impressive $149.01.  That's down from a peak of $165.90, though far above the initial peg of $132.  The end result is a post-offering valuation north of $25 billion, which multiplies the company's valuation by a factor of roughly 3X.
That makes SPOT one of the most successful tech IPOs in history.  Or, 'direct listings,' to be more exact about this 'non-IPO'.  Either way, this was a huge success and a risk well rewarded for Spotify.
For now, Spotify CEO Daniel Ek isn't talking to the media, based on SEC-mandated quiet periods.  Heading into the offering, Ek seemed rather subdued, while downplaying the importance of day one.  Instead of a flashy IPO, Spotify's CEO emphasized longer-term valuation and growth.  That strategy not only paid off, it may encourage other companies to pursue similar listing strategies.
Accordingly, Ek is now an insta-billionaire, along with a group of top Spotify executives.  Not bad given that Spotify was a marginal streaming player in Europe back in 2009.
Sticky financial issues remain.  For starters, onlookers are wondering if this is another tech bubble.  Spotify has never been profitable, and its future profits depend heavily on major label licensing rates.  Its model also doesn't quite scale, thanks to highly-variable costs.  In the end, Spotify doesn't have a viable model for long-term profitability — at least one that they've shown the world.
Artists are also miffed, thanks to paltry payouts.  But most are joining the circus, thankful for the exposure and worried about losing their connection with fans.  Others are aiming to parlay big playlists and spins into actual revenue-earners, including live concerts, merchandise, and even publishing deals.   Like it or not, that's your future music industry — and Spotify has a very strong place in it.
Here's our live coverage from throughout the day on Tuesday…
Shares were initially pegged at $132 per share, but quickly opened at $165.90 before edging downward below $160.  So far, so good…
Just ahead of trading, theWall Street Journal pegged values at nearly $170.  But they also offered a very bearish projection that SPOT will immediately sink, dropping as low as $80 while people sit on the sidelines (see below).  Not sure that's happening as people seem to be jumping in (for the most part).
Also: Merrill Lynch is apparently assisting in this 'non-IPO,' one of several banks that are helping out.  But importantly, Merrill is not allowing direct trades to its retail investor clients, raising the specter for greater volatility ahead (see comment below).
Here are earlier updates from Tuesday morning (pre-opening):
Swedish telcom giant Telia is dumping its shares.
Not the best sign, but Swedish telcom Telia is already jumping ship.  The company is dumping roughly $272 million worth of shares. According to the company, those shares were released to institutional investors who are more optimistic on SPOT's value.  "The parties have concluded their successful strategic partnership," Telia announced.
Telia first invested approximately $115 million in Spotify in June of 2015, part of a broader partnership.  Now, it wants out, and a 2.4X return sounds okay.
+ Spotify Has Lost Nearly $1 Billion In the Past Two Years, Financials Show
Initial drop?
Hard to say where this goes out of the gate, but one Bill Gurley of venture capital firm Benchmark is seeing a near-term drop.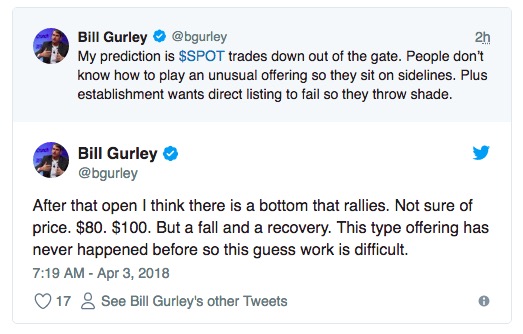 Others are bullish.
Already, we're seeing a mix of sentiment here, with some investors putting aggressive valuations north of $200.  Manhattan Venture Partners, for example, is reporting private trades north of $150, which puts the overall valuation north of $26 billion.
Broader market looks volatile.
So far, no plunge, though Monday was a brutal trading day.  Early morning indices are up but broader uncertainties surround tech stocks, Trump vs. Amazon, and a growing trade war with China.
Oh, whoops.
Looks like the NYSE accidentally raised the Swiss flag to herald Spotify's coming out.  Eh, European countries: who can keep track anymore?
---