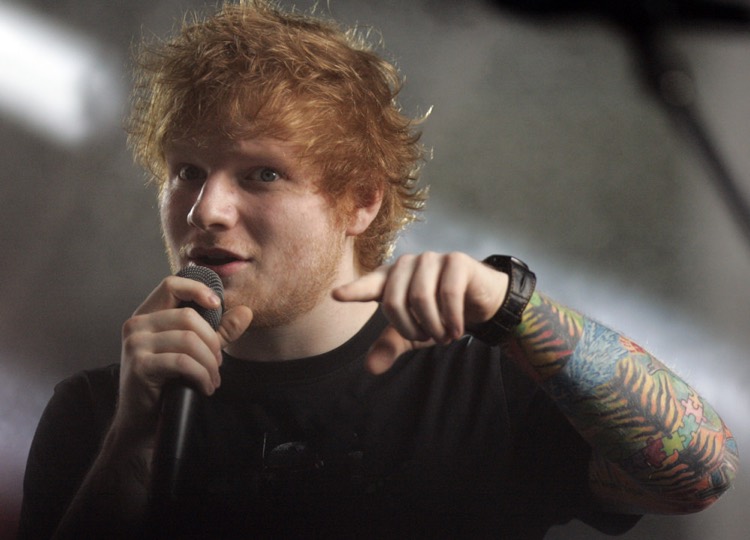 I'm just 'Thinking Out Loud' here, but apparently, Ed Sheeran and multi-million dollar lawsuits go together like peas and carrots.
Ed Sheeran is no stranger to lawsuits.
Two years ago, music publisher HaloSongs filed a $20 million lawsuit against Sheeran on behalf of songwriters Martin Harrington and Thomas Leonard.  Both alleged that his song, 'Photograph,' infringed on the 2009 song, 'Amazing.'  Sheeran settled the lawsuit out of court, adding both writers to the song's credits.
Last year, the estate of writer Ed Townsend slapped the British singer-songwriter with a major lawsuit.  Sheeran allegedly ripped off the chord progression of Marvin Gaye's soul classic, 'Let's Get It On,' in his popular single, 'Thinking Out Loud.'  He faces damages as high as $20 million.  Last we heard, the estate had hit Sheeran with the lawsuit a year earlier, but had failed to properly serve him.
This year, Australian songwriters Sean Carey and Beau Golden have filed a $5 million lawsuit over Tim McGraw and Faith Hill's 'The Rest of Our Life.'  Sheeran co-wrote the song with his team – Johnny McDavid, Steve Mac, and Amy Wadge.  He has asked a federal court in New York to dismiss the lawsuit.
Now, a company has sued Ed Sheeran for $100 million.
Let's Get It On… once again, Ed Sheeran.
Structured Asset Sales – led by investment banker David Pullman – has filed a copyright infringement lawsuit against the British singer.  The company recently acquired one-third of Marvin Gaye's 1970s hit, 'Let's Get In On.'
According to the suit, 'Thinking Out Loud' infringes on multiple elements of Gaye's popular track.  This includes the melody, rhythm, harmonies, backing chorus, drums, syncopation, tempo, and looping.
Structured Asset Sales originally made waves in the 1990s.  The company converted future royalties into musical IPs and sold them to investors.  Securitized works include David Bowie, James Brown, and The Isley Brothers.
Structured Asset Sales initially filed a motion to become a co-plaintiff in the Townsend Estate's lawsuit against Sheeran in May.  Pullman claimed he had done a deal with the late songwriter's son, Clef Michael Townsend.  On June 11th, however, US District Judge Richard Sullivan rejected the motion.  He noted that Pullman – through Structured Asset Sales – had waited too long to become a co-plaintiff.
Sullivan's rejection ultimately led to Pullman filing the $100 million lawsuit against Sheeran.  Pullman – represented by attorney Hillel Parness – has filed an appeal to the 2nd Circuit Court Appeals in New York.
According to The Hollywood Reporter, however, the newly-filed case merely repeats the copyright infringement claims of last year's 'Thinking Out Loud' lawsuit against Sheeran.
Defendants in Pullman's lawsuit against Sheeran include Sony/ATV Music Publishing, Atlantic Records, and co-writer Amy Wadge.
---
Featured image by Eva Rinaldi (CC by 2.0)