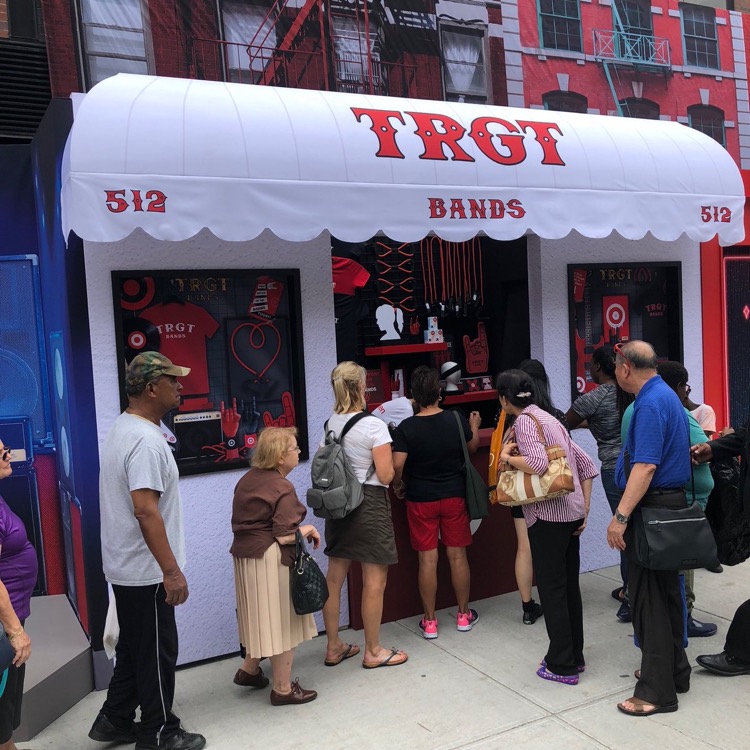 Target's arrival in the East Village of New York has seriously pissed off local residents.
So much so that the corporation has issued an apology to those who felt slighted by its most recent store opening.
A few days ago, Target celebrated the opening of its East Village store by mimicking the look of seminal club CBGB.  The punk dive was an icon in the East Village for more than 33 years, until it was forced to move because of high rents (and yeah, pressure from places like Target).
Residents and artists who performed at the club felt that the retail chain's appropriation of the iconic look was not in spirit with the indie rock vibe.  Accordingly a massive backlash against the store ensued on social media.
The retail chain first issued an apology in the New York Times, stating that the company often has one-day celebration events when stores open in new neighborhoods.  The corporation says it thanks everyone for their feedback on the event, and they will consider the input for future opening events.
"We often host a one-day celebration that shows the neighborhood how excited we are to be part of their community," the retailer stated.  "We sincerely apologize if some eventgoers felt it was not the best way to capture the spirit of the neighborhood," the statement continued. "We always appreciate guest feedback and will take it into consideration as we plan for future opening events."
But the tensions rooted in gentrification and cultural appropriation are still being expressed.
Adding insult to injury, Target's make-believe club featured branding TRGT and BANDS, mimicking the iconic lettering found on the CBGB awning that graced the outlet for years.  Several East Village bloggers who are against the gentrification of their neighborhood spoke out against the retail giant's new store, while artists railed against the "definitely not cool" message.
Of course, this isn't the first time the iconic CGBG club has had its look ripped off and commodified to sell products, either.
A restaurant mimicked the iconic facade and received a cease-and-desist letter from the estate of the owner of the club.  Public venues that attempt to cash in on the rich history of a location deserve mockery among those whom they serve, and Target's apology rings hollow.
---