Rating: 8/10
Pros: Outstanding sound quality! Bluetooth adds convenience and the battery system on the wireless is novel.
Cons: The price tag. Poor microphone wind resistance makes these unusable for outdoor phone calls.
The Ultimate Ears UE Live
A couple of months ago, Ultimate Ears sent me a pair of their brand new UE Live headphones in exchange for a fair and honest review. This is my first time getting to review a pair of their headphones that have Bluetooth so part of review is specifically about that.
The UE Live is now the flagship model for Ultimate Ears. In doing A/B tests with the previous flagship, the UE 18+ Pro pair, it is immediately noticeable that the new model's name is much less of a mouthful….
Onto the sound quality!
Sound Quality:
These sound great! But, is that a surprise? These are $2,400 headphones so they are made for a very specific type of user. People who are very focused on audio fidelity and also have a need for on-stage in ear monitors. The Bluetooth option is not going to be suited for live usage. I think there is still a risk of latency and signal interruption that can be detrimental to a precise live performance, so the Bluetooth is really geared at the casual listener.
The UE Lives are a massive improvement in sound quality compared to the model the previous flagship, the UE 18+ Pro. The bass is tighter and there is so much more shimmer to the treble. All of this without washing out the midrange. The sound stage has opened up considerably. One of the downsides of the previous iterations was that I felt that low, mid and high frequencies were in constant competition instead of cohesively forming a great overall experience.
I remember comparing the sound quality of the UE 18s to my Grado GR8 in ear headphones.  And while I could objectively state that UE 18s were delivering a higher fidelity, I had preferred the sound coming through the Grados. I had determined this was due to the number of drivers that the UE's had. That there were so many they that they were effectively competing for my attention when compared to the singular driver in the Grado headphones. The singular drivers created an experience more akin to over-the-ear headphones, on-ear headphones and even stereo speakers than the somewhat jumbled feeling UE 18s.
I am very happy to say that this is no longer the case.
The UE Live headphones deliver a mind meltingly pleasurable listening experience that feels more organic than any of their previous models.
I guess more driver and quality improvements were the answer because I am not finding that the varying frequencies have to compete with one another on the new model. They do not sound 'jumbled' and I feel they provide a far better representation of headphones that deserve to cost thousand(s) of dollars.
This is thanks to those the EIGHT speakers inside each of these in ear monitors. It really seems like a crazy amount but it works so well!

The wired sound is a night and day improvement in quality compared to wired, but I found myself using Bluetooth anyway 90% of the time.  After all, I cancelled Tidal (after 3 years of loyal patronage to their $25 per month Hi-Fi plan because of terrible app development and beyond lacking customer support) so the highest quality I am generally hearing for content is 320kbps from Spotify. Overall, convenience won this battle.
Bluetooth:
I can say that the Bluetooth option has been really great for me!  The previous pairs of UE that I have received for reviews were never ultimately contenders for my go-to headphones.  To clarify, I am an anti-social person who wears headphones nearly all of the time that I am out in public, so I get an average of 1-3 hours per day just going from point A to point B. Having the Bluetooth and having the cable that goes behind the neck allows me to just take out the headphones and let them dangle around my neck when not wearing them which is extremely convenient. That it part of why I never see myself becoming a fan of totally wireless earbuds like the Airpods.
Battery life on the Bluetooth is not good.  I was able to get 2-3 hours per charge BUT I don't think this is a problem thanks to a unique technological offering.  What really sets the Bluetooth apart from others I have tested is that the control and microphone dongle thing has a snap-on cradle (pictured below) that you need to use to charge it. This cradle also is a tiny backup battery that can charge your headphones back to full TWICE!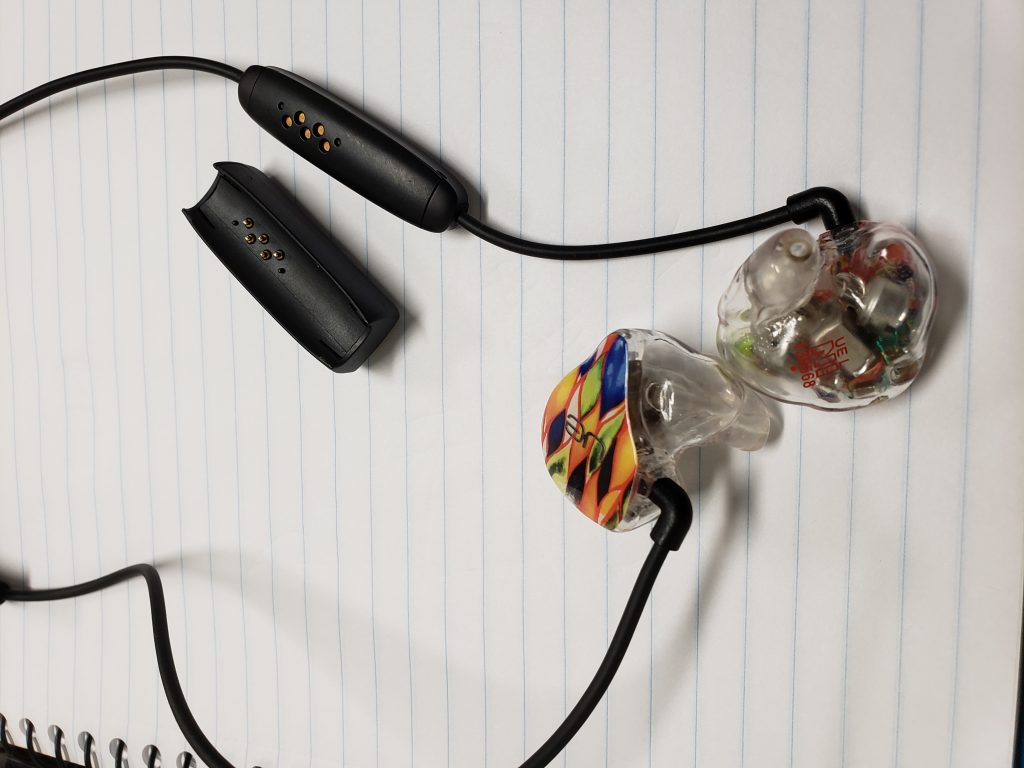 The one thing I cannot forgive is the abysmal performance of the microphone in anything outside of ideal situations.
I commute by walking and I frequently use that time to speak on the phone with people. When I try using the UE Live w/Bluetooth, all I hear from the other end after I speak is "what?" or "can you repeat that?".
At first, I thought I had a lemon and that it couldn't be that bad. It turned out I was wearing them wrong (UEs no longer behind your ears) but UE had already sent me a backup BT cable to test so I can now confirm that while properly wearing the headphones, these are not usable for phone calls unless you are indoors with little to no background noise.
Fit and Finish:
These are a super-premium product aimed at consumers with either a high disposable income, low cost sensitivity, or both. That in mind, I feel that I have to comment on the reduced quality of the carrying case.
This is going to come off as petty. Especially since I did not pay for my pair, but I feel it is worth mentioning because things like a case are a part of 'fit and finish' and I feel are an important part of buying a super-premium product.  So I feel it worth pointing out that the hard case these came with feel plastic-y compared to previous cases. The weight is lighter and it feels like it can take less abuse before breaking.
Note: I went with the round case in black this time so I can not comment on whether the quality has changed on the other cases.
These also came with a microfiber slip case (like what comes with sunglasses) and this is surprisingly nice addition that was not included in previous models.  It is what I carry with me 100% of the time when I have these headphones with me (which is most of the time).
One gripe is that the rubber on the cable is like a no-slip, somewhat sticky feel.  This is not ideal because it rests on a wearer's neck so if you are wearing them and turn your head, it might catch the cable on your neck and cause you to feel like an earbud is going to slip out.
Specs:
Input sensitivity:105 dB @ 1 kHz, 1mW
Frequency response:5 Hz – 22 kHz
Noise Isolation:-26 decibels of ambient stage noise.
Impedance:10 Ohms @ 1 kHz
Internal speaker configuration:6 balanced armatures, 1 True Tone Plus driver & 1 6mm neodymium dynamic speaker
Final thought:
These headphones are awesome! If the price doesn't bother you, I would totally go for them!
---