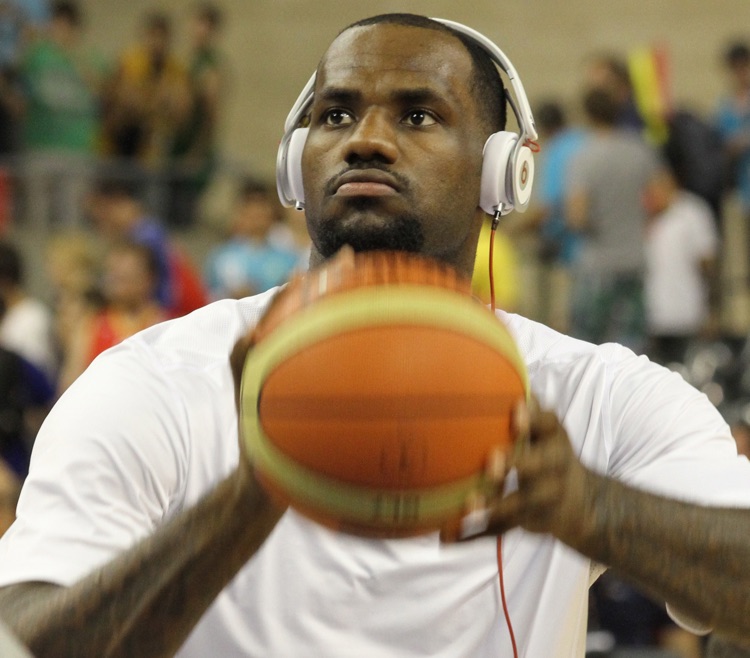 Beats by Dre just became the official headphone partner of the NBA.  The announcement was made today by Dr. Dre and Jimmy Iovine.
The new deal covers a wide range of marketing and merchandising opportunities for both sides.  But this is even broader than the NBA.  The deal makes the Apple-owned company the official audio partner of the NBA as well as the WNBA and USA Basketball.
The newly inked partnership won't go into effect until October.  But this is the first time Beats has pursued a direct partnership with a major sports league.
Several NBA stars have sported the headphones for years during warm-ups at games.  That includes LeBron James (pictured), James Harden, Draymond Green, Jayson Tatum, Ben Simmons, and Karl-Anthony Towns.
Another aspect of the new partnership is the potential to establish separate deals with specific teams to launch branded products for those teams.
Beats by Dr. Dre president Luke Wood said the new partnership cements a lasting relationship with influencers who are already fans of Beats products.  So in some senses, this is a formality with a lot more direct payments involved.
"The NBA and its players have long been significant drivers of global culture," Woods shared.  "Basketball, music, and style speak as one voice: Julius Erving became a style icon, Allen Iverson cemented hip hop's place on and off the court, and LeBron James is regularly breaking new music… the list goes on and on.
"This partnership with the NBA is the perfect alignment for Beats. It feels like coming home."
A new 30-second commercial features LeBron James, James Harden, and Draymond Green sporting Beats gear to announce the partnership.
NBA star James Harden commented on the deal, expressing his love for Beats products.
"Whether I'm traveling, working out or decompressing after a game, I can't imagine listening to anything without them. Beats loves basketball and always works to tell the stories of their favorite players. I'm excited to see what they do with the NBA."