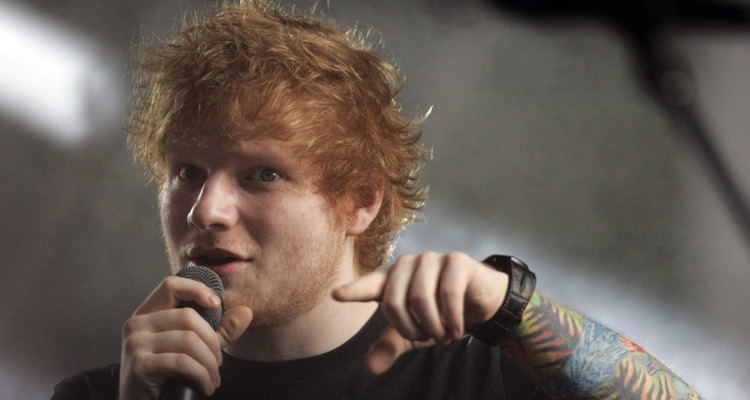 I'm just Thinking Out Loud again, but it seems Ed Sheeran must now face the music in court.
A New York federal judge has dismissed Ed Sheeran's summary judgment request in a closely-watched case.
The lawsuit, which claims that the British singer/songwriter's 'Thinking Out Loud' willfully infringes on Marvin Gaye's 'Let's Get It On,' will now head to a jury trial.
Dismissing the summary judgment, US District Judge Louis D. Staton noted that a jury would have to decide on a number of disputed facts.
"A jury might side with either view.  The question whether TOL infringes on LGO should be determined by trial rather than summarily."
Two years ago, the estate of Ed Townsend, co-writer of Gaye's massive hit, first slapped Sheeran with the lawsuit.  In the copyright infringement suit, the estate sharply criticized the British singer/songwriter for ripping off the song's chord progression.
Potential damages could go as high as $20 million.
Prior to Staton's decision, a key dispute emerged between both sides.  Does Townsend's copyright only cover a 'bare-bones' version of 'Let's Get It On' at the U.S. Copyright Office?  Or does it cover the full recorded version?
In his written order, Staton avoided answering the question.
"Regardless of whether the deposit copy or sound recording of LGO defines the scope of the composition's copyright, material facts are in dispute.  Accordingly, defendants' motion for summary judgment is denied."
The estate had previously cited a YouTube video in which Sheeran played a mix of both songs.  Using Gaye's chord progression, he easily switched between both tracks.
Unfortunately, the jury will see that video as evidence, wrote Staton.
"Not only are there substantial similarities between several of the two works' musical elements, but an ordinary observer might experience the aesthetic appeal of both works as the same.  [A jury] may be impressed by footage of a Sheeran performance which shows him seamlessly transitioning between LGO and TOL."
You can view the motion denial order below, along with the YouTube video in question.
---
Featured image by Eva Rinaldi (CC by 2.0).