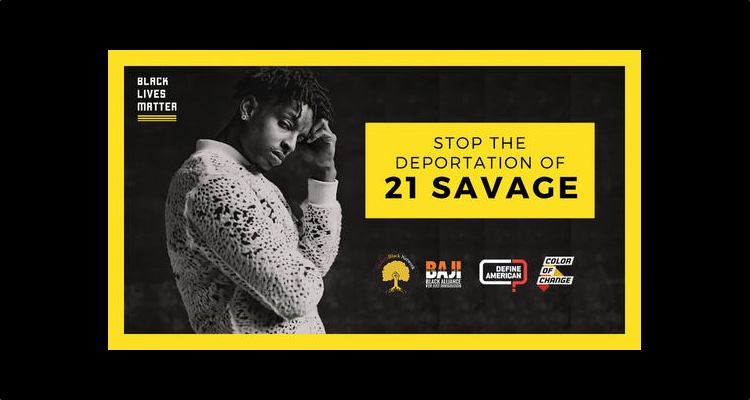 Black Lives Matter organizers have banded together to create a petition protesting the deportation of rapper 21 Savage.
The rapper, whose real name is Sha Yaa Bin Abraham-Joseph, was arrested over the weekend and taken into ICE custody.
The petition was created yesterday and quickly approached 250,000 signatures.  At the time of this article's publication, the signature tally was at 240,477 (and rapidly growing).
BLM organizers say that 21's detention is a "testament to the consistent and historically under-reported harassment and targeting of Black immigrants."
Just days before the rapper was arrested, 21 Savage performed a set in which he was critical of the government.
"Been through some things so I can't imagine my kids stuck at the border/ Flint still need water / People was innocent couldn't get lawyers."
Watch 21 Savage perform "A Lot" on The Tonight Show with Jimmy Fallon.
https://www.youtube.com/watch?v=opKizJadkzA
Yesterday, the rapper's attorney Charles H. Kuck released a statement to clear up confusion surrounding 21 Savage's arrest.
Kuck revealed that the rapper's family overstayed their work visas after bringing him to the country when he was 7.
The attorney also says that 21 Savage applied for a U-Visa in 2017, which is given to victims of crimes committed in the United States. The rapper applied for that visa based on an incident that happened in 2013 when he was shot, and a friend was murdered. The application has not been approved.
21 Savage was born in the United Kingdom and arrived in the United States under an H-4 visa. 21 Savage is part of the so-called "Dreamers" category, which refers to immigrant children who have no official status in the country. There are currently more than two million Dreamers in the United States.
21 Savage has three U.S. children, a lawful permanent resident mother, and four lawful permanent resident siblings. He has lived in the country since the first grade.
Those details make a deportation seem incredibly cruel.  According to Black Lives Matter, this is another example of laws being used arbitrarily against black victims, with the resulting disruption often devastating to the individuals and families involved.