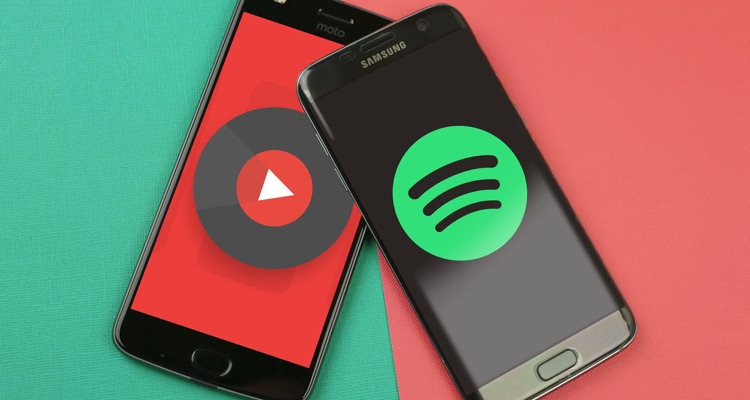 Like Spotify, YouTube Music has also managed to partner with Samsung.
Last Friday, Spotify confirmed a major expansion under its strategic alliance with Samsung.
The streaming music giant's app would now be bundled into millions of Samsung's new devices.  Spotify would serve as the default music app for a growing list of Galaxy smartphones and tablets, smart TVs, the Galaxy Watch, and various Galaxy Home devices.
The aim of the partnership, first unveiled last summer, remains to create a built-in 'seamless' streaming music experience for Samsung users.  Bixby, the hardware maker's reply to Alexa and Google Home, now uses Spotify as the preferred option to find and play music.
In addition, customers in the US who purchase select Samsung Galaxy devices will qualify for six months of Premium.
But, now, a rival has managed to bundle its floundering streaming music app, too.
Can Samsung save YouTube Music?
YouTube Music marks Google's third attempt to break into the streaming music market.
And, frankly, the service hasn't done so well.
So far, the service has failed to answer the question of why billions of free users should now pay for their favorite works.  Last last year, YouTube Premium slipped off the list of top-10 video streaming services in the US.
That was last November.  Things haven't changed much since then.
In an effort to turn things around, the popular video platform has bundled its Premium service in Samsung devices alongside Spotify.  Users in select countries who purchase one of three devices – the Galaxy S10 phone, Galaxy Fold, and Galaxy Tab S5e – will receive four months of ad-free, uninterrupted music.
Keep in mind this remains two months short of what Spotify has offered users who buy the same devices.
The popular video platform unveiled the partnership in a blog post last Friday.  Strangely enough, YouTube explains that all other Samsung Galaxy users 'have' only between February 20th to the 29th to try two months of Premium for free, dates which have already expired.
The offer applies only until March 30th, 2019 for new users.  Consumers in the United States, Australia, Austria, Belgium, Brazil, Canada (excluding Quebec), Chile, Colombia, Denmark, Finland, France, Germany, Ireland, Italy, Japan, Luxembourg, Mexico, Netherlands, New Zealand, Norway, Peru, Portugal, Russia, South Korea, Spain, Sweden, Switzerland, Ukraine, and the United Kingdom can qualify for four months of YouTube Premium.
They must also be new subscribers who haven't used a Premium service on Google in the past.  This includes Play Music, Music Premium, Premium, and Red.
---