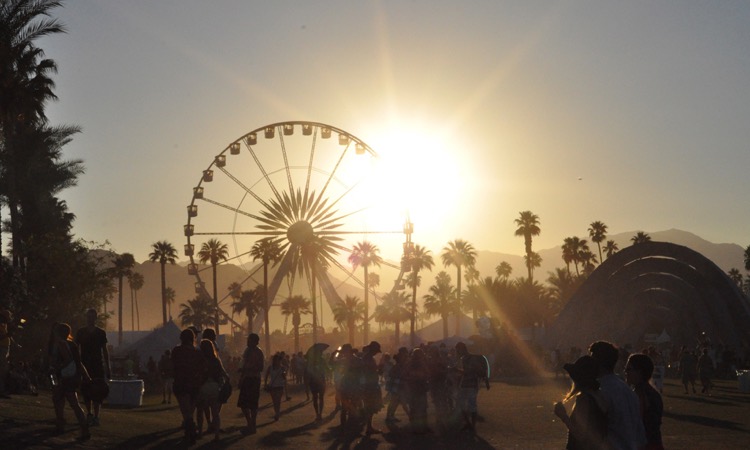 Coachella is under pressure to address a growing sexual harassment problem.
The Coachella experience is anything-but-idyllic for many women, though festival parent Goldenvoice has struggled to generate solutions.
Now, there's one potential remedy: 'safe spaces,' or cordoned-off areas for people to escape a range of potential problems.  That includes everything from unwanted groping, stalking, or more aggressive assault attempts.
Stagecoach, also owned by Goldenvoice/AEG, will have similar 'safe spaces' constructed.  The concept is being implemented with the help of woman., an LA-based organization.
The safe space concept will fly under the banner of 'soteria,' referring to the Greek goddess of safety, salvation, and preservation.
"We conceived this idea in late 2017, as a direct response to the changing landscape for women and other marginalized groups within our communities," said Kate Mazzuca, co-founder of woman.  "We are really aiming to create a quantifiable shift within the culture by developing safer and more enjoyable experiences for everyone involved."
The broader issue appears enormous, however.  Just last year, a twenty-something female reporter for Teen Vogue trekked to Coachella, and reported getting groped more than 22 times within a 10-hour period.
The reporter, Vera Papisova, ended up interviewing 54 woman at the mega-festival.  In total, every single interviewee reported being groped.  "I interviewed 54 women at Coachella, and they all said they had been sexually harassed," Papisova relayed.
Papisova also reported a stalking incident that might sound familiar.
"One guy followed me across the field to the Mojave stage, where I was meeting a friend to see FIDLAR. When my friend left to see another band, I stayed behind, and this guy came up behind me and whispered, "You're a goddess" and then rubbed his hands on my hips and butt. I knew it was the guy who followed me over earlier because I recognized his Pablo merch."
The report and other complaints prompted Coachella to initiate a slate of anti-harassment policies.  The new initiative was dubbed 'Every One,' and first announced in early January of this year.  "We are pushing ourselves and our guests to do better and to be better," a Coachella statement read.  "We are taking deliberate steps to develop a festival culture that is safe and inclusive for everyone."
Coachella says that anyone found to be committing "any form of assault or harassment, be it sexual, physical, or verbal" will be removed from the festival without refund.
Woman's safe space concept has already been implemented at two smaller events in 2018.  The bigger vision is to make safe space installations standard across the festival and event landscape.  "After working close to 20 years in the music industry and personally attending almost every major festival worldwide, it wasn't hard to see that there was a lack of attention being paid to this super pervasive problem," relayed woman cofounder Ana Calderon.
"The issues we are addressing go beyond just the music and nightlife space, and soteria is needed everywhere."
Coachella's weekend one kicks off on Friday, April 12th.