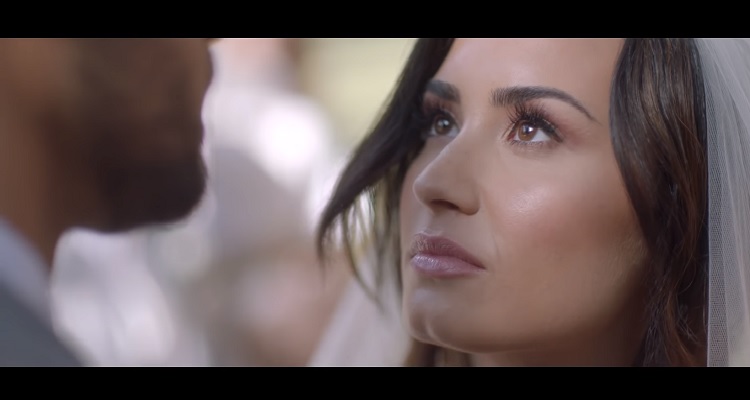 Over the weekend, Demi Lovato made a surprising announcement.
Posting a picture alongside Justin Bieber and Ariana Grande's famed manager, the pop singer confirmed that she's also joining forces with Scooter Braun.
"GUYS!!!!!!!  Dreams came true today for me.  I officially have a NEW MANAGER!!!  And not just any new manager, but the one and only @scooterbraun!!!!

"Couldn't be happier, inspired and excited to begin this next chapter with you Scooter!!!  Thank you for believing in me and for being a part of this new journey.  Let's DO THIS!!!!!!"
The official confirmation came following days of speculation on social media.  On May 6th, Scooter Braun posted the following cryptic tweet.
"Demi ?."
Lovato hasn't released a new single following the 2018 release of 'Sober.'
Following the track's release, the pop singer overdosed on heroin at her Hollywood Hills home on July 24th.  EMTs rushed Lovato to Cedars Sinai hospital after finding her unconscious.  She remained at the hospital for two weeks, battling nausea and high fever.
Lovato has previously opened up to fans about her struggle with mental health and previous addictions.  Prior to the overdose, she had remained sober from alcohol, cocaine, and Oxycontin for six years.
Discussing her struggle, Lovato told fans,
"I have always been transparent about my journey with addiction.  What I've learned is that this illness is not something that disappears or fades with time.  It's something I must continue to overcome and have not done yet."
She also thanked God for "keeping me alive and well" as well as her fans, stating their "positive thoughts and prayers have helped me navigate through this difficult time."
Following her stay at Cedars Sinai, Lovato quickly checked in to a rehabilitation facility where she remained for 60 days.  She also slammed media outlets for running negative stories about the near-fatal experience following her release.
"I love my fans and hate tabloids.  Don't believe what you read.

"If I feel like the world needs to know something, I will tell them MYSELF.  Otherwise, people stop writing about my recovery because it's no one's business but mine.  I'm sober and grateful to be alive and taking care of ME."
Speaking about signing Lovato, Scooter Braun told his 3.1 million followers on Instagram,
"[Demi] is a special person and a special talent.  I'm… we… are honored.  Welcome to the family, Demi."
---
Featured image by Demi Lovato (YouTube screengrab).