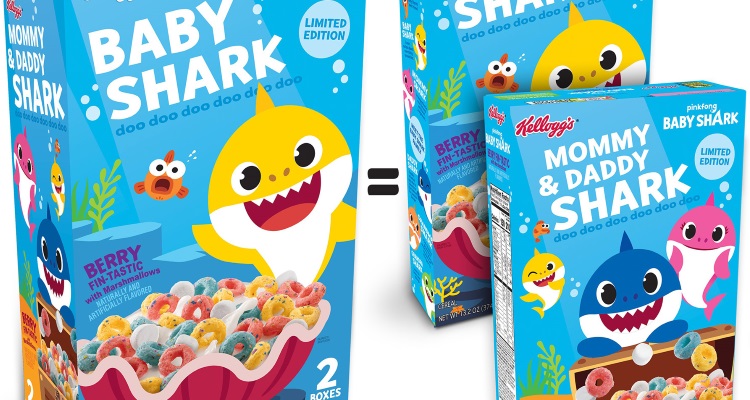 Kellogg's has announced a partnership with Pinkfong to create a Baby Shark branded kid's cereal. That's not the only merchandising opportunity Pinkfong is exploiting, however.
Kellogg's announced the partnership on Friday, saying the cereal will be available in August. The berry-flavored rings are accompanied by marshmallows and will be a Sam's Club exclusive for $5.98 a box.  A wider release will roll-out across Walmart in September.
The cereal is a limited time deal to capitalize on the popular South Korean children's song, 'Baby Shark'.  Pinkfong, a subsidiary of South Korean educational company SmartStudy, is overseeing the dealmaking.
The Baby Shark Dance video on YouTube has amassed over 3 billion views since it was uploaded in 2016. Several K-pop stars have covered the song, sending the kid's song on a viral journey.
Now, Pinkfong is creating a flurry of Baby Shark merchandising ahead of the 2019 Christmas-buying season.
To that end, the company has also announced a partnership with toymaker WowWee.  Up first: the 'Baby Shark Song Puppets,' which can sing the entire song, letting the user change the speed.
The Baby Shark Song Puppets will include Baby Shark, Mommy Shark, and Daddy Shark. Each puppet will be available for $19.99 and includes batteries. Baby Shark Fingerlings are available now, though the song puppets won't be available until August.
But there's a lot more ahead for this gravy train.  Pinkfong has also announced an EDU-based line of pre-school learning toys featuring the characters. Baby Shark Family Bath Squirt Toys will be available starting in October. The Baby Shark Melody Walker and Shape Sorter Toy also arrive in October.
Pinkfong made international headlines with Baby Shark Dance back in 2017.
The Pinkfong YouTube channel has over 20 million subscribers, and its videos have reached over 10 billion views combined. Baby Shark Dance remains the most popular video, so be prepared to see those Sharks in stores everywhere.
You can bet more partnerships are to come.