A federal court judge has ruled that an infringement lawsuit that Nirvana LLC filed against clothing designer Marc Jacobs as well as against department stores Saks Incorporated and Neiman Marcus can proceed.
Nirvana filed the suit in December of last year, claiming that the design was infringing on both their copyright and trademark by being similar to their iconic happy face logo. Mark Jacobs used this design in its "Bootleg Redux Grunge" clothing line, which they began selling last November at Saks and Neiman Marcus.
In addition to copyright and trademark infringement, Nirvana accused the defendants of false designation of origin and unfair competition.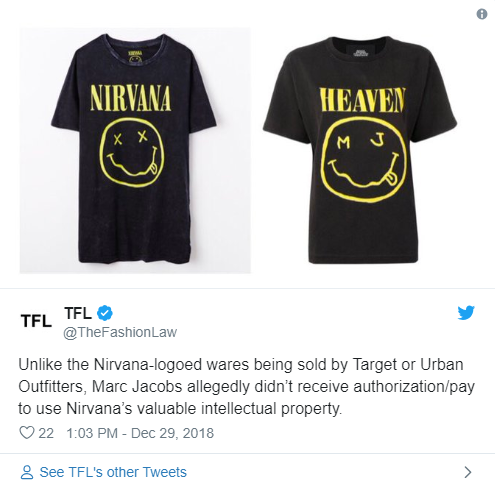 The defendants in the suit sought to get it dismissed on a number of grounds. First, they insist that Nirvana LLC has failed to demonstrate that it was the legal owner of the happy face logo. They also insisted that the company had not demonstrated that there was a substantial similarity between the two designs. Finally, they claimed that Nirvana's original copyright was only valid in combination with other design elements and not by itself.
But U.S. District Court Judge John Kronstadt did not concur with any of the defendants' arguments.
One-by-one, the judge shot down their claims. First, he said that Nirvana did in fact sufficiently establish that it owned the copyright to the happy face logo. He further said that a casual visual review of the two logos clearly demonstrates that there is sufficient similarity between them (the only discernible difference are the letters "M" and "J" in place of the two X's used as eyes), and he indicated that Nirvana's happy face logo can in fact be considered protectable under copyright law even when separated from other design elements.
So far, none of the representatives of Marc Jacobs or the two stores have issued statements or comments in response to the judge's decision.