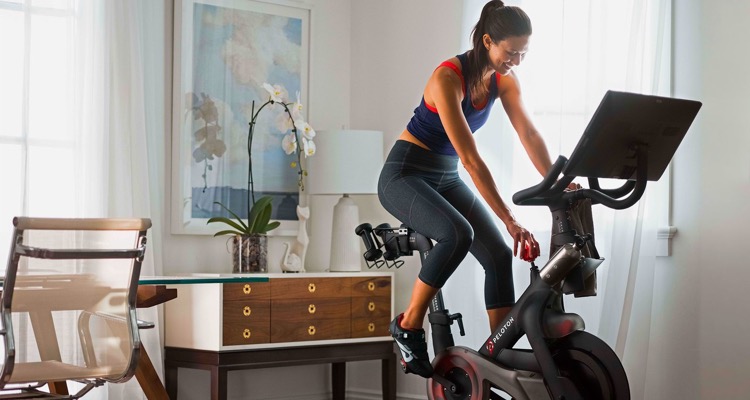 A hairy legal battle between music publishers and Peloton took another turn this week.
Peloton suffered a serious setback against litigating music publishers in federal court this week — though this case is far from over.
Last year, the music publishers — including Downtown Music Publishing, Round Hill Music, Ultra International Music Publishing, and Reservoir Media Management — filed a massive copyright infringement lawsuit against Peloton, with claimed damages eventually reaching $300 million. The group accused Peloton of using many of their songs within their workout videos without proper licensing.
Peloton fired back against those charges, but also opened a separate counteraction that alleged violations of antitrust law. Specifically, the gaggle of publishers faced accusations of acting collusively, with the National Music Publishers' Association (NMPA) preventing member publishers from striking independent deals.
The NMPA and its constituents responded that its coordinated efforts were a response to massive copyright infringement, which necessitated a non-cooperative attitude.
But U.S. District Court judge Denise Cote questioned whether the NMPA and its publishing members are the only game in town.
After all, there's a lot more music out there to be licensed.
"Peloton defines the relevant market as sync 'licenses to the copyrighted works controlled (in whole or in part) and collectively negotiated by the [Music] Publishers through NMPA.'  This proposed market is legally insufficient, as it "clearly does not encompass all  interchangeable substitute products."
Stroll onto Spotify, and millions of non-NMPA songs are widely available. Even more tellingly, multiple sync licensing businesses readily offer music for licensing, with direct deals easily structured.
That point wasn't lost on judge Cote, who noted that plenty of smaller, non-NMPA publishers could offer catalogs of their own.
"Peloton does not explain why it cannot substitute songs with sync licenses owned by the Music Publishers for songs with sync licenses owned by other publishers," the opinion continued.  "Indeed, as Peloton admits, it has successfully 'collaborated with music publishers to develop an innovative [sync] licensing framework  that is appropriate for its business and reached agreements with all the 'major' music publishers and many independent music publishers.'"
Those within the industry can already spot the implicit complaint here.  The pubs in question control works by Katy Perry, Justin Timberlake, Ed Sheeran, Justin Bieber, Drake, Ariana Grande, and Rihanna, among others.  Those songs are demanded by Peloton riders and instructors, who prefer well-known, chart-topping tracks to similar-sounding substitutes.
But that doesn't mean that the NMPA and its cabal control the 'relevant market' for licensable music, a key test in antitrust cases.  "Peloton argues that sync licenses are not interchangeable because every song has 'nonfungible qualities,'" Cote continued. "It is true that every copyrighted work has at least some modicum of originality. But, recognition of that fundamental tenet of copyright law does not explain why songs not controlled by the Music Publishers cannot substitute in exercise programming for songs they do control."
Point: music publishers.  Now back to our regularly-scheduled game.
Now, the action shifts back to the original mass-copyright infringement lawsuit. Actually, it's unclear if Peloton actually thought they would win an antitrust claim. But if the goal was to burn time and legal fees, they're already ahead. Earlier, sources to Digital Music News pointed to frustrations among NMPA members over the costly battle being waged. In response to those leaks, litigating pubs Downtown and Reservoir doubled down on their support for the expensive legal foray.
Separately, NMPA's David Israelite strongly rattled the cage of TikTok, stoking chatter of another massive lawsuit ahead. In a missive to Senator Marco Rubio and other members of Congress, Israelite noted that "numerous works continue to be used unlawfully as the platform's popularity grows exponentially," while concluding that "the scale of TikTok's copyright infringement in the U.S. is likely considerable and deserves scrutiny."
So far, shots remain unfired against TikTok and its billionaire owner, ByteDance.
Despite today's legal win, it's unclear if the NMPA's broader war against Peloton is a good idea.
In fact, it looks like Peloton already understands Judge Cote's core points.  Last year, the company decided to circumvent publishers like Downtown and started striking direct licensing deals with mega-stars like Paul McCartney, Jennifer Lopez, Lizzo, Jennifer Lopez, and Red Hot Chili Peppers.
The mega-deals were part of an emerging 'Artist Series' offering that focused less on massive catalogs and more on single-artist, personality-driven instruction. After all, superstars are celebrities as much as musicians, and unsurprisingly, most are highly receptive to cashing massive checks for direct deals.
"In order to amplify our commitment to music, we plan to increase the number of 'Artist Series' offerings," Peloton emailed Digital Music News last year.  "We recently produced a Jennifer Lopez dual-instructor ride with Robin Arzon and Jess King, as well as a Lizzo ride, and both placed in the top 10 live classes of all time on our platform."
Fast-forward to 2020, and it looks like that initiative was successful for Peloton.
In an interview with Billboard published this morning, Peloton's head of music Paul DeGooyer said that the company was forced to drastically cut down its music selection after it got hit with the NMPA suit. But Peloton quickly shifted to direct licensing: "We were able to build back the library very quickly," DeGooyer said.
"What ended up happening is we had a ton of artists managers in particular, but also our legal and publishing partners coming in.  I think, in some cases, they saw a service that they want to support. In other cases, it was maybe just them realizing that some share [of the programming] is up for grabs if a lot of stuff isn't being played.
"And one of the results is we start to get offered really great artist stuff, which you can see expressed in about 25 or 26 Artist [Series] classes."
In other words, as publishers like Downtown remain locked in lengthy litigation, others are filling the void of their pulled catalogs. And taking bread out of Downtown's mouth in the process.
Others watching from the sidelines are undoubtedly writing a 'note to self' regarding direct licensing. Peloton says they were trying their best to properly licensing everything, but quickly found themselves in a legal quagmire that they didn't anticipate or understand. Major publishers clapped back against that claim, but in fairness, the fitness startup doesn't seem to be having any issues with its direct licensing efforts.
Whether that's bleeding into the broader licensing space is hard to discern. Either way, direct-licensing efforts are suddenly manageable technologically, U.S. copyright law allows them, and executives are learning about their protective advantages.  
In many cases, there are huge cost savings: just recently, Discovery Networks attempted to supplant a traditional performance royalty-based system with direct, upfront payments to composers. Composers (and publishers) stood to lose a massive amount of royalties as a result, and Discovery eventually backed off the plan following a serious backlash.
Back to the sync side, other potential licensors — i.e., the next Peloton — may reconsider massive and complex negotiations with a raft of NMPA-repped publishers.  If only to avoid the possibility of a $300 million legal mess.
More as this case develops. The latest decision can be found here.