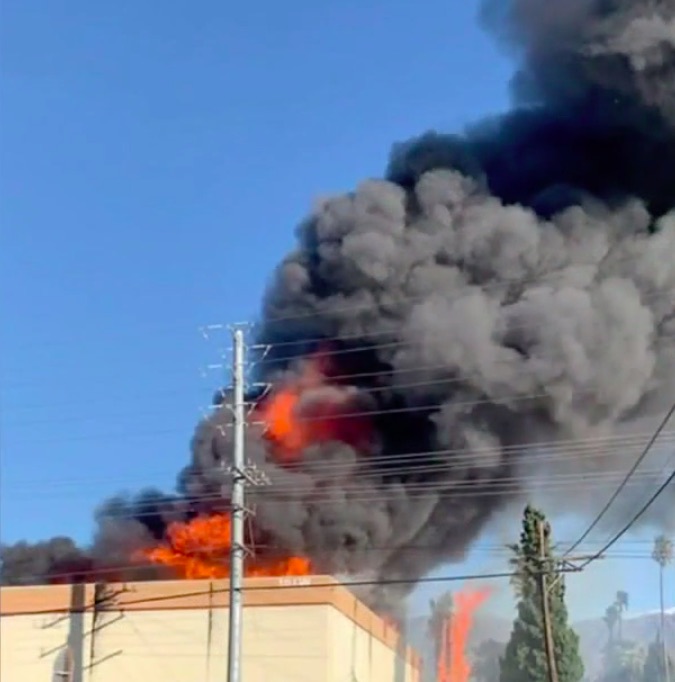 The Apollo Transco lacquer-production facility has been destroyed in a raging fire — the cause remains unknown.
Late yesterday, a fire broke out inside Apollo Transco's lacquer-production warehouse, and authorities have now indicated that the building was completely destroyed. 
The Banning, California, facility was one of only two known establishments (the other being Japan's MDC) capable of creating the lacquer discs used to form vinyl master discs, from which additional record copies are pressed. Vinyl masters can also be crafted through a process called direct metal mastering, but an intricate, difficult-to-manufacture cutting piece is required, and for this and other reasons, most vinyl record companies use lacquer. 
No civilians or firefighters were harmed in the blaze, and the fire's cause is still being investigated. In a brief interview with on-scene reporters, Sam Smith, Apollo Transco's manager, said that she first saw flames rise from the 15,000 square foot structure's chemical-mixing area. 
At this point, it's unclear just how much of an impact the incident will have on vinyl manufacturers; the episode may well disrupt ongoing production plans and prompt an industry-wide pivot to the aforementioned direct metal mastering. 
Apollo Masters was founded in 1936 and relocated to Banning in 1987. In 2007, the company acquired the assets of Transco Masters, thereby carving out an even more substantial share of the market. With vinyl sales having increased each year since Apollo's Transco buyout (including 1.24 million units sold during 2019's Christmas week), the investment seemed wise, and future prospects appeared bright. Now, it's difficult to say when—or if—the company will rebuild and resume operations. 
In a statement, Vinyl Alliance, a trade group and advocate of vinyl records, said that the Apollo Transco blaze was "a sad day for the vinyl industry." The newly formed organization also said that it hoped employees and firefighters were free of injuries, and that Apollo would return to business as soon as possible.