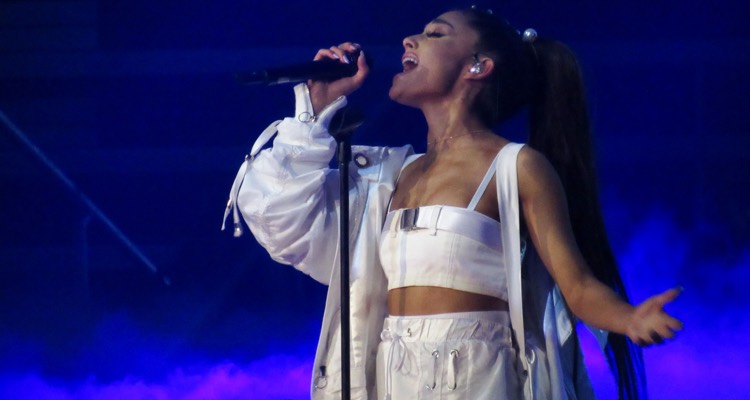 The previously reported Ariana Grande copyright infringement lawsuit could be dismissed sooner rather than later.
Earlier today, District Judge Naomi Reice Buchwald sent a letter to the lawsuit's plaintiff and legal team, in which she indicated that their complaint hasn't yet been served to Ariana Grande. Lawsuits must be served — i.e. disclosed and properly delivered — to defendants within 90 days of their filing, or else they will be dismissed without prejudice.
In the letter, which was leaked to Digital Music News this morning, Judge Buchwald also stated that she would consider granting the plaintiff additional time if he and his lawyers "show good cause" as to why they haven't yet served the complaint. Otherwise, the case is slated to be tossed out on April 15th.
Rapper DOT, whose real name is Josh Stone, filed the lawsuit in January. In it, Stone alleges that Grande's 2019 song "7 Rings" infringes upon his "You Need It I Got It," which he released in 2017. Specifically, Stone says that some of the lyrics and virtually all the notes in "7 Rings" came from "You Need It I Got It."
Stone isn't the only artist who's claimed that portions of "7 Rings" were stolen.
Rapper Princess Nokia aired copyright-infringement grievances over the song, saying that elements of it were lifted from her "Mine" track. (The 27-year-old subsequently walked back the claims, following a fierce social media response from Grande's fans.)
Soulja Boy insinuated that the song derived from "Pretty Boy Swag," and 2 Chainz said the same of "Spend It."  2 Chainz and Ariana Grande subsequently buried the hatchet; they released a "7 Rings" remix, and Grande contributed to 2 Chainz's "Rule the World."
Though the general consensus amongst fans seems to be that "7 Rings" bears little resemblance to "You Need It I Got It," it's possible that a jury would feel differently — assuming that Grande is served the complaint and the matter proceeds through court, of course.
Last year, Katy Perry was found guilty of infringing rapper Flame's "Joyful Noise" with "Dark Horse." The surprising jury decision was accompanied by a staggering $2.8 million verdict, which Perry is currently appealing.
Ariana Grande and her team have yet to comment publicly on Stone's lawsuit.