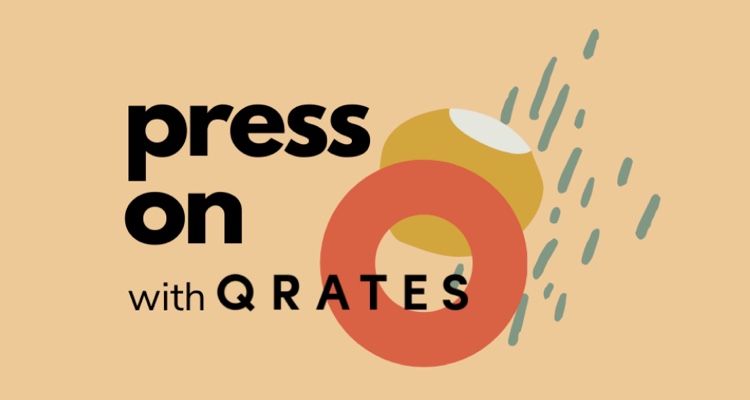 In 2019, U.S. vinyl record sales grew by nearly 20 percent to over $500 million, marking the 14th consecutive year in which the format's domestic commercial performance has improved. Now, COVID-19 is putting that progress on pause, though Qrates is developing smart manufacturing and distribution workarounds to keep growing the format.
The medium that was previously thought to be financially unworkable has enjoyed — current global crisis notwithstanding — a massive resurgence. But even under global lockdowns and quarantines, an ever-increasing number of fans and artists are eager to experience today's music on vinyl, which has passed the test of time with flying colors.
But how, exactly, should an artist go about distributing vinyl, when buying it just got so difficult? Just recently, Amazon indicated that vinyl purchases would be delayed while more essential supplies are prioritized. That freeze is slowly being lifted on non-essential goods, though it will probably take a while to return to previous levels. Meanwhile, physical record stores are closed, even though tens of thousands of fans would love nothing more than a good vinyl record during isolation.
Enter Qrates (pronounced like "crates"), which has a bit of experience dealing with seemingly-insurmountable manufacturing, distribution, and capital-raising problems.
Leading into the COVID-19 crisis, vinyl's triumphant return to prominence was experiencing growing pains. A relatively involved and complex manufacturing process, coupled with dramatically bolstered fan and artist demand, means that it takes longer and costs more to release music on vinyl. Extensive turnarounds, heightened expenses, cumbersome storage requirements, shipping inconveniences, and the immense risk of excess inventory have, in many ways, prevented independent artists from accessing the music industry's fastest-developing sphere.
Those are a lot of problems, which spell perfect opportunities for the right companies and vinyl-obsessed entrepreneurs.  Accordingly, Qrates has been quietly trying to debug these issues for years.
Qrates is essentially a vinyl-exclusive crowdfunding platform that takes the hassle—and financial risk—out of pressing and distributing records, thereby enabling as many artists as possible to drop LPs.  Now, that debugging is going into overdrive at Qrates applies its creative workarounds to COVID-19's seemingly-insurmountable manufacturing bottlenecks.
Indeed, Qrates is not only keeping the lights on; they're helping artists rally fanbases while raising funds for vinyl releases. To get started with Qrates, interested musicians need little more than a love for vinyl and a passion for their craft; the company has worked with indie artists and major label stars alike.
One of Qrates's much-publicized offerings was a vinyl edition of Vulfpeck's Sleepify, an all-silent album that Spotify users were encouraged to play during slumber. "A thousand people actually bought the silent album," Qrates CMO Taishi Fukuyama relayed. "Since then, the band has repeatedly released their vinyl with Qrates."
The protest album's very presence on Qrates made clear that each and every artist is welcome to see what the crowdfunding, production, and distribution entity is all about.
For typical listings (the platform's emphasis on flexibility has resulted in several available options), a crowdfunding goal is set, a promotional page is created, and fans can then browse — and purchase — the corresponding record with a few clicks. Once a project meets its goal, production initiates. (Qrates has established close relationships with vinyl manufacturers, and the record creation process is accordingly streamlined.)
And as part of the Tokyo-based company's newest service, Qrates Storage, crowdfunding projects can be stored in and shipped from two warehouses, one in Michigan and one just outside of London. The service is offered even after the campaign exceeds its initial goals — all free of charge.
Having had success working with record stores, Qrates is capitalizing on the direct-to-customer style of business with Qrates Storage. The one-stop vinyl-distribution service can be utilized by all artists who meet their crowdfunding goals on the platform.  It's also proving invaluable during the current pandemic.
Using the aforementioned warehouses, the Qrates Storage program safely houses records until they're purchased (after the initial crowdfunding initiative has concluded), at which point they're promptly shipped to customers. Moreover, a thriving store-delivery program offers an array of record shops the chance to buy stocked LPs in bulk at wholesale prices.
Embeddable description-page widgets and stress-free processing options make it easy for artists to maintain a steady stream of vinyl sales—and revenue—as their careers grow.
Simply enough, the idea behind Qrates Storage is to bring more artists and fans onboard a quickly growing platform.  As you can imagine, Qrates firmly believes vinyl's best days are ahead, and DMN has gladly teamed up to help spread that message.  But perhaps the trick to unlocking this potential involves discovering innovations and administering meaningful improvements, all without losing sight of the characteristics that have made vinyl a mainstay of the music world for nearly a century.
Now, Qrates' crowdfunding, storage, and distribution infrastructure is proving invaluable to artists that know about it.  The company has just announced 'Press On with Qrates,' a commitment to supporting artists during the COVID-19 crisis with 100 free records.
In an effort to help artists push through COVID-19 challenges, Qrates is helping artists who have completed a crowdfunding campaign with another 100 records at no cost. The extra records pressed for artists are stored in the free Qrates Storage, and can be sold anytime for instant fulfillment.
"The current pandemic has affected all of our lives on a global scale — now more than ever, we need to support each other where we can," Fukuyama relayed. "We know as an artist, it's important to get your music out there and into your fan's hands. During these difficult and uncertain times, we want to help you be able to continue to do this."
Artists can learn about the special campaign here.