TikTok downloads have crossed 2 billion last quarter after rapidly expanding its user base in March.
The rapid growth of TikTok continues amid the U.S. investigation into censorship and privacy concerns. Two branches of the U.S. military have banned the use of the app on government-issued devices.
In March, TikTok downloads topped 12 million new users in the U.S. as the coronavirus shutdown began. TikTok joins a handful of apps around the world that have reached 2 billion downloads.
Facebook, WhatsApp, Instagram, and Messenger (all services owned by Facebook) are the other four apps to achieve that feat. It also disregards Google apps like Gmail and YouTube – which come pre-installed on all Android devices.
The app is also most popular on Android phones, which account for 75.5% of all downloads. That's not too surprising, though – China and India run on Android, primarily.
The new 2 billion downloads metric comes just five months after TikTok achieved 1.5 billion downloads.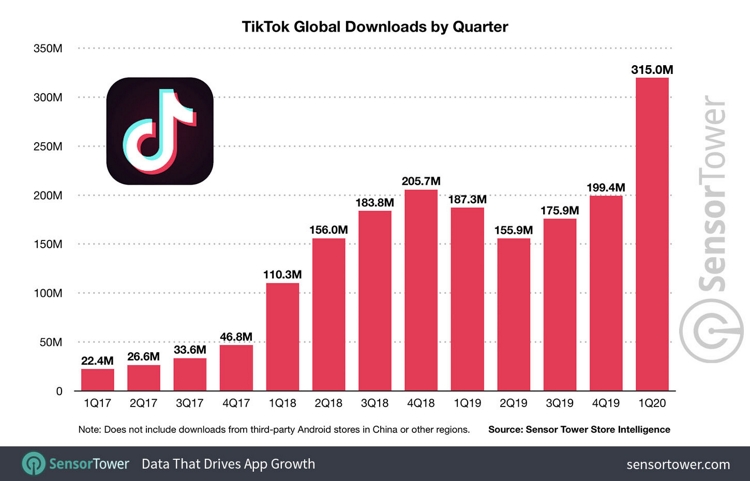 At the end of March, TikTok was downloaded over 315 million times – surpassing any other app. It also topped TikTok's own previous best downloads of 205.7 million in Q4 2018. WhatsApp is the second-most downloaded app, and it only topped 205 million downloads in the same quarter.
The mass of new users means TikTok's value as a revenue generator goes up, too. Users have spent about $456.7 million on TikTok – up from $175 million just five months ago. Spending in the United States is around $86.5 million, making the U.S. its second-largest market. About 72.3% of all spending in TikTok still happens in China.
It's worth noting that SensorTower has a few caveats about these download stats. The analytics firm notes that TikTok has engaged in "large user acquisition campaigns." Despite that, the surge in downloads in March was bolstered by the coronavirus lockdown in much of the world.