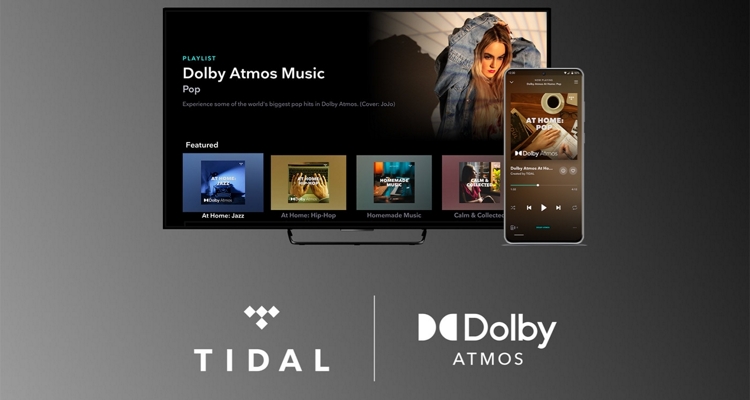 Tidal is bringing Dolby Atmos support to its app on smart TVs – including Android TV, Apple TV, and Fire TV.
Tidal says several soundbars, TVs, and AVR home theater systems equipped with Dolby Atmos tech can experience it. Users need a Tidal HiFi subscription and a compatible streaming device.
Dolby Atmos Music tracks are mixed to take advantage of 3D surround sound. That means vocals and instruments come from different parts of a room. The feature works even with just a single soundbar.
Tidal says its DAM library includes music from Ariana Grande, The Weeknd, Shawn Mendes, and Camila Cabello.
The HiFi tier defaults to Dolby Atmos Music experience if it is available on a compatible device. Music that supports the format will include an "Available in Dolby Atmos" sticker on the home screen. Users can also search for Dolby Atmos on the Tidal app to find all tracks supporting the technology.
Tidal continues to appeal to audiophiles who want the most from their music experience. It supports Dolby Atmos Music, Sony's new 360 Reality audio format, and hi-res masters-quality audio for thousands of songs. Tidal is also offering a 60-day free trial of the Dolby Atmos service.
Dolby Atmos Supported Devices
Apple TV 4K
Fire TV Stick 4K
Fire TV Cube
Nvidia Shield TV
Fire TV Stick (2nd Gen)
Fire TV (3rd-Gen)
Nvidia Shield TV Pro
Sony Smart TVs
Philips Smart TVs
Out of all these hi-res music technologies, Dolby Atmos Music is the most interesting. The surround sound audio experience is impressive for gaming and movies – music is just a bonus.
The technology offers native surround sound support for up to 128 channels and up to 34 separate speakers. That includes speakers that can direct sound toward a listener from the ceiling. It helps recreate a commercial movie theater feel right in your home. Right now, only Tidal and Amazon Music HD offer support for Dolby Atmos Music.