Podcasting is quickly becoming a replacement for radio in many American households. Spotify sits at the forefront of that growth, but it's far from one of the best podcast apps on iPhone or Android. Take a look at these recommendations to find an app that suits your podcasting needs.  Scroll down for more details on every app, both for iOS and Android devices.
Best Podcast Apps – Overall
1.PocketCasts
2. Overcast
3. Downcast
4. Castro 3
5. Apple Podcasts
6. Stitcher
7. TuneIn Radio
8. Downcast
9. Spotify
10. Castaway 2
11. Podcast Republic
12. Doggcatcher
13. Castbox
14. BeyondPod
15. Google Podcasts
---
Best Cross-Platform (iOS + Android) Podcasting Apps
Stitcher
Stitcher is an on-demand radio service that focuses on offering radio and podcasts. It supports a wide variety of platforms and has a robust web-player. It arose as an alternative to Apple's stranglehold on the podcasting landscape around 2016.
Stitcher aggregates content from thousands of providers and organizes that content into stations. Large media providers like BBC, CNN, Fox News, MSNBC, NPR, and others all co-mingle on the Stitcher platform. The service was briefly owned by music streaming service Deezer, before being sold off in 2016.
Download: App Store | Google Play
---
TuneIn Radio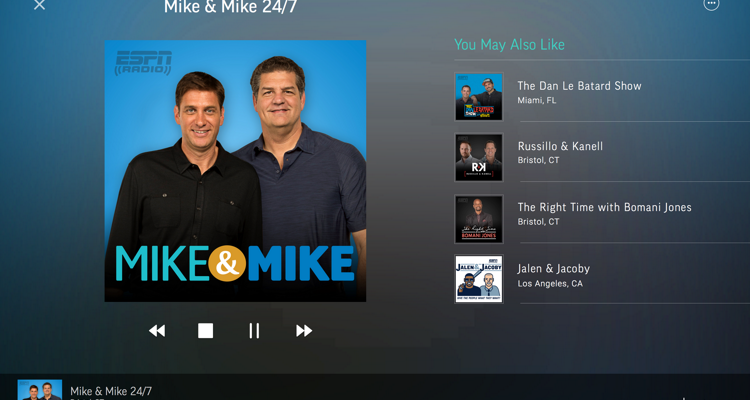 TuneIn Radio is one of the best podcast apps that integrates live sports and AM & FM radio. That makes TuneIn one of the best podcast apps For AM junkies. Not ready to give up talk radio and sports radio just yet? Don't.
TuneIn Radio offers access to over 100,000 AM and FM radio stations across the globe. It bundles that live radio offering with some of the best podcasts from multiple categories. Live news from organizations like BBC, CNBC, MSNBC, and Fox News are also present.
Download: App Store | Google Play
---
Pocket Casts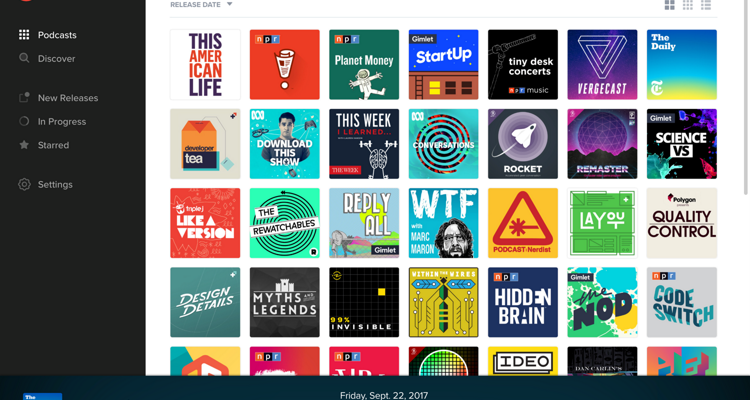 Pocket Casts is my favorite of the free podcast apps available on Android and iPhone. It switches between iOS, Android, and the PocketCasts web player seamlessly, making it useful for podcast power-listeners.
While the Pocket Casts mobile apps are available for free, the web player is part of a subscription tier. That tier includes features like an Apple Watch player, new themes, and custom desktop apps for macOS and Windows 10.
Download: App Store | Google Play
---
Spotify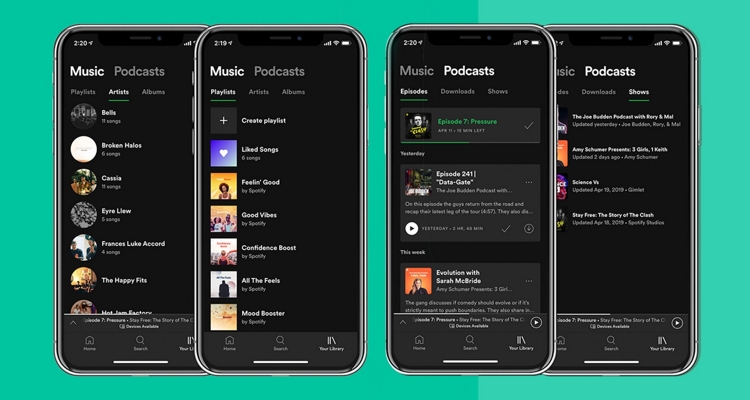 Spotify has managed to snap up several podcasts, making them exclusive to its service. Several popular podcasts like The Joe Rogan Experience, The Last Podcast on the Left, and Crimetown signed exclusive Spotify agreements.
The ugly truth is if you want to enjoy everything the world of podcasting has to offer – you might need Spotify installed. It's not one of the best podcast apps available, but at least all of its podcasts are available for free.
Download: App Store | Google Play
---
Castbox.fm
Castbox is another great cross-platform podcast app for iPhone and Android users. It supports importing your favorite podcasts from various services and includes a massive catalog of podcasts and audiobooks.
Castbox.fm is designed to have some social features like YouTube so that other Castbox users can comment on podcast episodes. It's a pretty unique community that YouTube lovers might find interesting.
Download: App Store | Google Play
---
Best Podcasting Apps for iOS
Overcast
Overcast rivals Pocket Casts in features, but it a podcast app for iPhone only. It features many more customization options than Apple's default Podcasts app. The playlist queue is separate for each podcast, which is excellent for serial listeners.
The app deserves its title as the best podcast app for the iPhone because of its organization. It allows users to put their podcasts into categories that share playlists – great for getting through time-sensitive content.
Download: App Store
---
Castro 3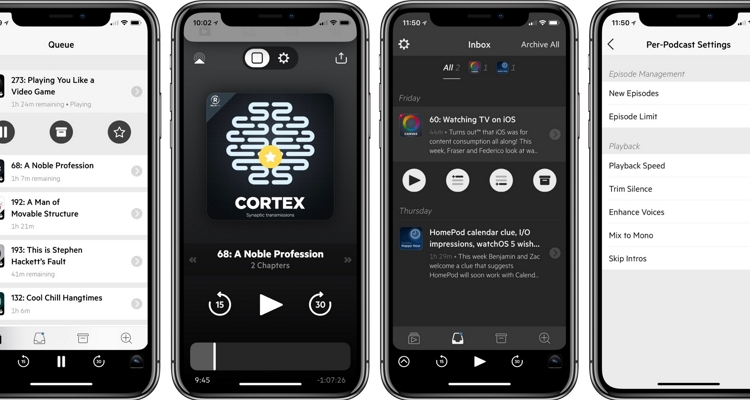 Castro 3 is excellent for users who follow many different podcasts but may not want to listen to every episode. Following podcasts in Castro means new episodes show up in a feed but don't download automatically. You can choose whether to put podcasts into a playlist for downloading and listening.
Castro supports custom playback speeds and equalizer tools to boost production values. It also features a trim silence option that can shave up to 20% off of your podcast listening time. The app supports side-loading audio that may not be part of a podcasts' feed. That's useful for shows that feature lots of bonus or insider content.
Download: Google Play
---
Downcast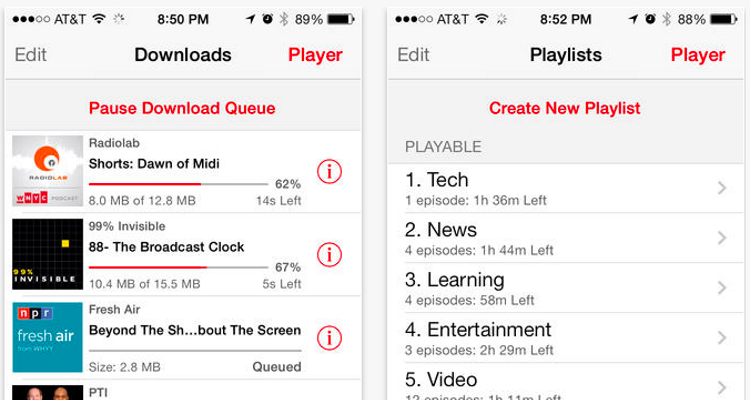 Downcast is geared toward power users, but it hasn't seen an interface update in a long time. Nevertheless, it supports iOS, macOS, and CarPlay for listening to podcasts while on the go. It's not as robust as Overcast or Castro, but it deserves to be mentioned.
Download: App Store
---
Castaway 2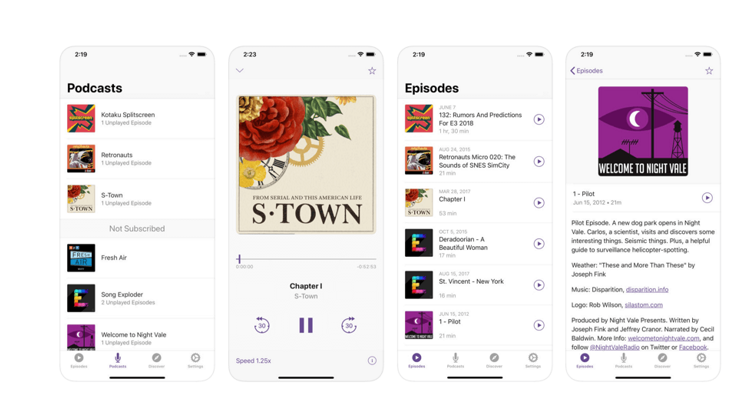 Castaway 2 is designed for podcast listeners who want minimal bloat on the iPhone. It's one of the best free podcast apps on the iPhone that isn't made by Apple. The app is barebones in terms of features when compared to Castro or Overcast, though.
Download: App Store
---
Apple Podcasts
Apple created the podcast format and owned the market for much of its early life. But the Apple Podcasts app is notoriously barebones compared to some of the best podcast apps for iPhone. Power-listeners would be better served by Overcast or Castro 3.
Until Apple gets around to giving its Podcasts app a massive overhaul, you're better served with a third-party app on iOS devices.
Download: App Store
---
Best Podcasting Apps for Android
Doggcatcher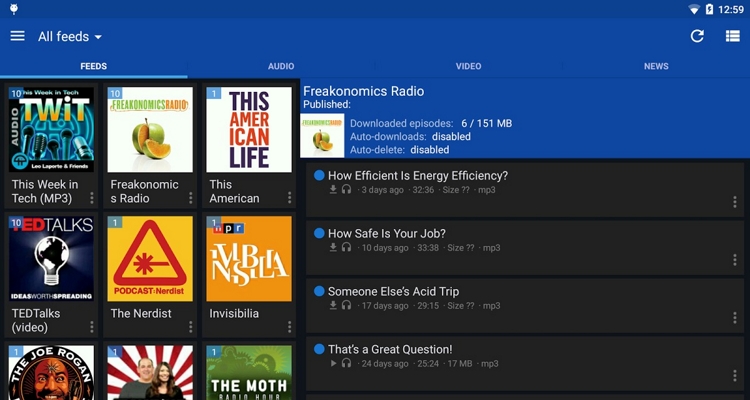 Doggcatcher is one of the best podcast apps for Android thanks to its Chromecast and Android Auto support. The app makes it easy to subscribe to new podcasts and offers online playback of audio and video podcasts.
Each podcast has a customizable playlist, with variable speed playback supported. Doggcatcher also features robust podcast categorization for power users who like to keep their shows organized. Doggcatcher also features powerful automation tools to download new episodes of your favorite podcasts.
Download: Google Play
---
Podcast Republic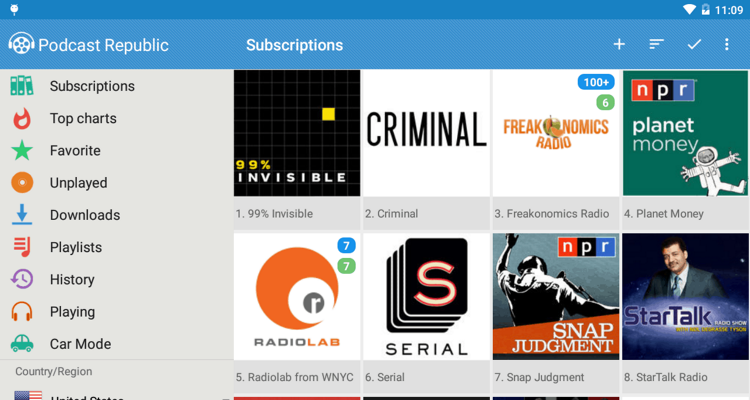 Podcast Republic is one of Android's free podcast apps that supports Google Play Pass. The app mixes podcasts with live radio streaming and features support for SoundCloud channels.
Podcast Republic also features customizable playlists and support for importing directly from RSS. It offers variable playback speed from 0.5x to 3x to save listening time. It is also one of the few best podcast apps for Android to support multiple playlist organization. Gesture-operated car mode makes it great for commuters, too.
Download: Google Play
---
AntennaPod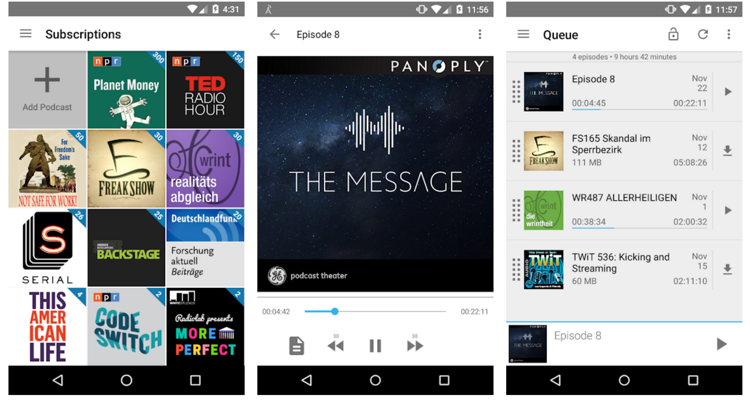 AntennaPod is another one of the free podcast apps on Android that features automatic downloads. It allows users to set the number of cached episodes and manage their podcast feeds with smart deletion technology. Stop running out of space on your phone or tablet because you have too many podcast episodes downloaded.
Download: Google Play
---
Google Podcasts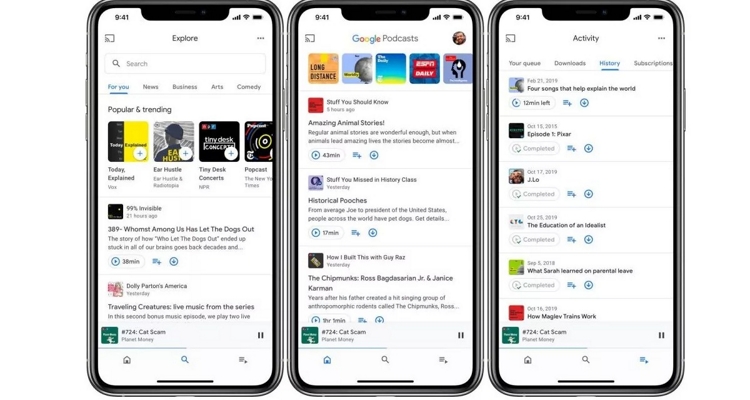 With the death of Google Play Music, Google is rolling out its own podcasting app. It offers a clean interface that matches Android's material design interface. It also supports Google's smart speaker ecosystem so that users can ask for episodes using their voice.
Out of all of Google's recent efforts, Google Podcasts is actually worth checking out. It's one of the best podcast apps on Android, thanks to its sleek interface. Power users will likely be happier with Doggcatcher or Pocket Casts, though.
Download: Google Play
---
BeyondPod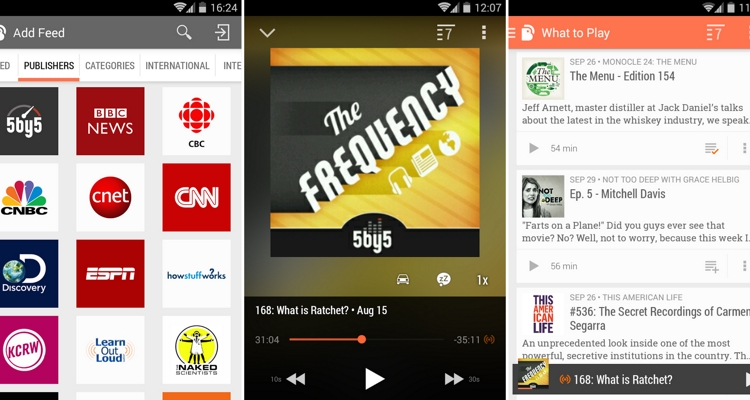 BeyondPod is a bit depreciated when compared to other Android podcast apps on this list. It still works well enough for playing episodes, but users report bugs aplenty. BeyondPod features smart playlists that build based on listening preferences.
Download: Google Play