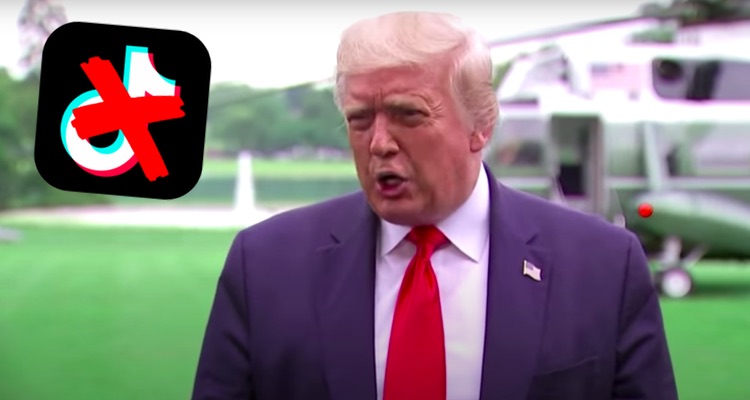 It's over, folks — TikTok is officially shutting down in the United States.
Update, 8/3 am: Trump has now reportedly given Microsoft 45 days to complete a TikTok acquisition; Microsoft has indicated that it aims to complete a full acquisition of TikTok by September 15th. More as this develops; the following is our initial coverage of Trump's comments on a ban ahead of the weekend.
The shutdown order is now coming from President Trump, who officially confirmed the move ahead of the weekend. "As far as TikTok is concerned, we're banning them from the United States," Trump told a group of reporters outside the White House. Trump also indicated that an executive order would be used to terminate the app from both iOS and Android devices.
Exactly when TikTok will stop working for US-based users is uncertain. But a complete shutdown could happen in a matter of days, and everyone on the app is strongly advised to retain copies of their videos and account details as quickly as possible.  Additionally, those with substantial followings are being urged to shift their accounts to other platforms, and capture information on as many followers as possible.
Unfortunately, identifying, retaining, and translating followers into another platform will be difficult. That's because TikTok controls the contact information of its users, and won't be giving it way.  But capturing usernames and any other identifying information could be critical to rebuilding audiences later — so the best advice is to capture as much information as possible (as quickly as possible).
Already, some tricks for transferring and retaining TikTok followers are being discussed.
One is to simply message your followers to follow you on other platforms — with clear information on where to head next.  Additionally, TikTok won't be available inside the US, though it's possible that users can access their accounts from other countries, including Canada and Mexico.  Location spoofing is also emerging as one way to fake your location, though that can get tricky — especially on iOS devices.
In terms of where users should migrate, alternatives topping the list include Triller and Instagram Reels. Both are relatively new and eager to accept TikTok refugees — and setting up accounts on both makes a lot of sense right now. Indeed, TikTok shutting down is bad news for successful TikTok creators, but fans still want to follow their favorites.
The shutdown order from President Trump is hardly a surprise.
Leading up to the Friday comments, several White House staffers pointed to a possible ban, citing serious security issues involving TikTok's Chinese parent, ByteDance. Treasury Secretary Steven Mnuchin, Secretary of State Mike Pompeo, and Assistant to the President Peter Navarro all pointed to an imminent shutdown, citing the very real possibility that ByteDance is feeding information on US-based activity to the Chinese government.
Separately, multiple members of Congress have raised the alarm on TikTok, and even introduced measures to curtail the use of the app by government employees.  Earlier, various U.S. military branches banned the app completely, citing serious security issues.  Even the Biden campaign has prohibited TikTok's use among campaign staffers.
Against that tide, recently-installed TikTok CEO Kevin Mayer has denied that ByteDance is feeding data to Chinese Community Party officials.  Mayer even accused Facebook of orchestrating a plot to remove the app from the United States, while cozying up to the Trump Administration. The company also pledged to generate thousands of new American jobs, though none of those moves helped.
Trump's shutdown declaration also coincides with reports that Microsoft is actively considering a TikTok purchase.
That would shift the app into American hands, though it's unclear if the sale would be approved.  Earlier, Peter Navarro noted that a sale would send billions to a Chinese-based company, which runs counter to American interests.
More as this develops.