Triller is topping the App Store charts thanks to uncertainty surrounding TikTok's future in the US.
The app is now ranked number one in the Top Free Apps category on the App Store. TikTok still ranks in the #2 position on the Google Play Store, with Zoom overtaking it. TikTok alternative apps Likee and Instagram's Reels seem to be more popular than Triller on Android.
Short-form video apps are becoming increasingly important for social media promotion. Millions of young people are worried their TikTok following will vanish overnight if the Trump administration bans the app. Several TikTok alternatives like Triller, Byte, and Likee see tons of new downloads as users flock to new services.
Earlier this year, the Trump administration signaled that it might ban TikTok. That has paved the way for the Triller app to flourish.
The Trump administration accuses TikTok of sharing data with Chinese government officials. It's an accusation that TikTok continues to deny. The Beijing-based Internet company, ByteDance owns TikTok and its global operations. As such, the company would be subject to any requests made by the Chinese government under Chinese law. Triller is based in Los Angeles and is attracting former TikTok talent to help it grow.
Triller is now the #1 app on the App Store in 85 countries across the globe. It was already on the rise in other countries, before talk of the American TikTok ban intensified. Triller quickly reached the #1 spot in India's App Store in early July following TikTok's ban there.
The growth of similar platforms proves there's a demand for a short-form video-focused social media platform. It's something Facebook has tried to capitalize on by rolling out its TikTok clone feature called Reels to Instagram users. Facebook hopes bringing TikTok's features to Instagram users will keep them on the platform.
Triller app vs. TikTok – What's Different?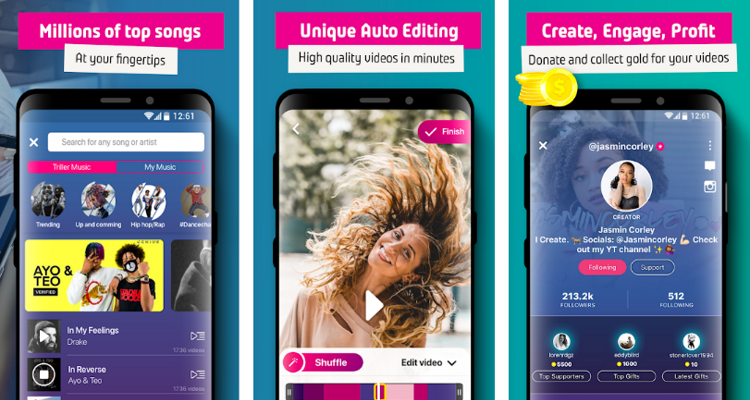 While Triller is similar to TikTok in how it functions, there are some differences. Triller automatically edits a users' video using AI-powered software. Users can review the AI's edits and accept them or fine-tune them with manual controls. TikTok offers more filters and options for editing videos manually.
With the rapid influx of TikTok talent, Triller may soon introduce more manual editing features. TikTok star Josh Richards is now serving as the Chief Strategy Officer at Triller. He also signed a deal with Warner Music, a first for the label in signing TikTok stars.
He's promoting Triller to his 20+ million TikTok followers and will likely help convert much of his audience. Triller's future success hinges on whether Microsoft completes the purchase of TikTok. Trump gave the company 45 days to make a deal happen before he takes action on the app.