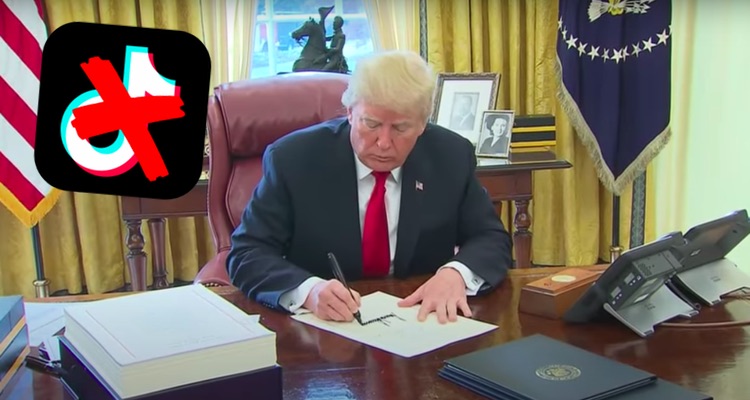 TikTok is officially banned in the United States, thanks to an executive order signed just hours ago by President Trump. But TikTok isn't getting wiped off of phones just yet.
Donald Trump first threatened to ban TikTok last week.  Now, he's officially getting it done.  In an Executive Order signed just hours ago, Trump officially made it illegal for TikTok parent ByteDance to operate its app within the United States.  The order is effective in 45 days, and specifically bars any transactions between ByteDance and American citizens and companies.
The list of American companies includes both Apple and Google, both of whom offer access to TikTok through their respective app stores. Furthermore, American advertisers would be barred from working with the app, and ByteDance would also be prohibited from running the app entirely.
"TikTok, a video-sharing mobile application owned by the Chinese company ByteDance Ltd., has reportedly been downloaded over 175 million times in the United States and over one billion times globally," the Order reads in part.  "TikTok automatically captures vast swaths of information from its users, including Internet and other network activity information such as location data and browsing and search histories.
"This data collection threatens to allow the Chinese Communist Party access to Americans' personal and proprietary information — potentially allowing China to track the locations of Federal employees and contractors, build dossiers of personal information for blackmail, and conduct corporate espionage."
ByteDance insists that it doesn't share data with the Chinese Communist Party.  But even if that's the case, the Chinese government always retains the power to seize TikTok's data.
"These risks are real," the order relays.  "The Department of Homeland Security, Transportation Security Administration, and the United States Armed Forces have already banned the use of TikTok on Federal Government phones.  The Government of India recently banned the use of TikTok and other Chinese mobile applications throughout the country; in a statement, India's Ministry of Electronics and Information Technology asserted that they were 'stealing and surreptitiously transmitting users' data in an unauthorized manner to servers which have locations outside India.'"
"American companies and organizations have begun banning TikTok on their devices.  The United States must take aggressive action against the owners of TikTok to protect our national security."
So what does the Executive Order mean for TikTok and its users?
The Executive Order doesn't mean that TikTok is banned tomorrow.  Instead, a 45-day window has been opened to allow the purchase of the app by an American company.  Enter Microsoft, which is currently in negotiations with ByteDance to purchase the fast-rising app.
Still, both Apple and Google could decide to remove the app from their respective app stores at any point.  Additionally, American advertisers (and advertisers from other countries) are likely pulling back their ad spends on the platform given the extreme uncertainty ahead.
For TikTok users — and especially celebrities — the development means that accounts could disappear unexpectedly.  That makes it critical to bring audiences elsewhere, including Instagram Reels or Triller.
And if a deal with Microsoft falls apart, ByteDance would be left scrambling to find another buyer.  If unsuccessful, you can kiss TikTok goodbye in the US.