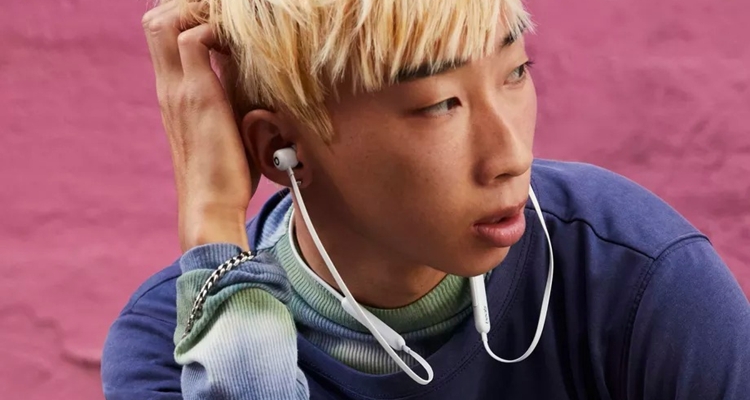 While Apple was busy announcing its new line-up of iPhones, Beats debuted its new bargain-basement Flex earbuds.
These $50 earbuds from Beats are surprising, considering the brand feels dead as AirPods take over. But Apple may branch out with the Beats brand to make it more appealing as a third-party option for iOS and Android. After all, the iPhone 12 won't come with a set of free earbuds in the box.
The new Beats Flex is an evolution of the Beats X earbuds, which featured a neckband-style cord. The new buds charge via USB-C, making them more attractive to Android users. Despite dropping the lightning connector for charging, they retain the Apple W1 chip for instant pairing with iPhones. They only require 10 minutes of charge time for an hour and a half of listening.
Beats says the internals have been reworked for better sound quality and improved mic performance. The new earbuds will be available on October 23rd in four colors – black, blue, gray, and yellow.
The Beats Flex features a cable that wraps around behind your neck. The earbuds also magnetically attach to themselves when not in use. Music will automatically pause when the earbuds are together, with playback resuming once they're in your ears.
So how much better is the Beats Flex earbuds' sound quality when compared to the Beats X from 2017?
"Beats Flex employs a proprietary layered driver with dual-chamber acoustics to achieve rich, balanced sound with outstanding stereo separation. Laser-cut micro-venting and an optimized driver angle ensure ear pressure relief and accurate sound delivery. Additionally, an advanced digital processor fine-tunes the audio for accurate bass, precise mids, and low distortion across the frequency curve," the company touts.
Android users aren't being left out in the dark on convenience features, either. Beats has an Android app that enables the feature and firmware updates.
Meanwhile, Apple's premium noise-canceling headphones didn't make a debut yesterday as everyone thought. But they're expected any day now.
Branching out beyond the iOS ecosystem gives Beats a broader audience. It also gives Beats an entry-level budget option for both iOS and Android music lovers. The Beats name may not have the clout to sell $300 headphones anymore, but $50 earbuds are a no brainer.
I'd wager you'll see more budget-friendly audio options from Beats soon. Expanding its audio offering to Android users almost demands it. That's especially true as phone manufacturers increasingly offer their own earbuds.