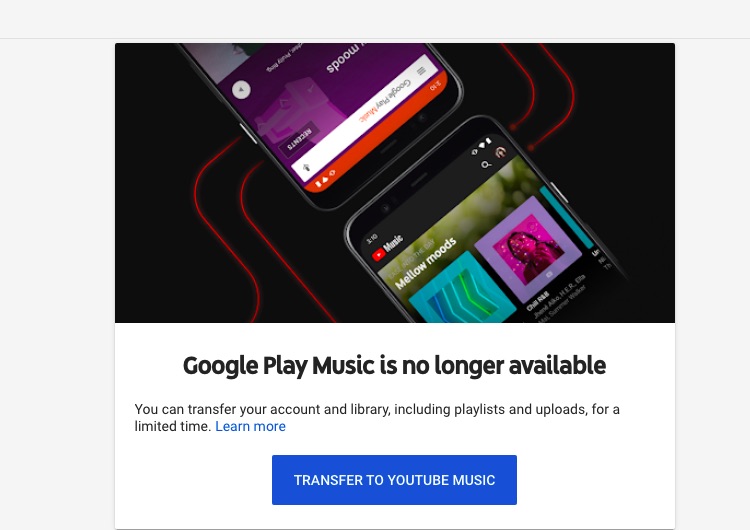 Google has finally pulled the kill switch on Google Play Music — its first music streaming experiment is officially dead.
We've known about the Google Play Music shut down for well over a year now. As of today, the longtime Google music service is officially kaput.
Some early hints that GPM would be replaced by YouTube Music appeared as early as 2019. Google eventually replaced GPM with YouTube Music as the 'default' music player installed on new Android devices. Over the last three months, Google has issued not-so-subtle warnings about the impending demise. GPM users received notifications on the website and app that they could transfer their music to YouTube Music.
Now when you access the GPM website, you see a giant splash banner, "Google Play Music is no longer available."
Below that, you see a prompt to transfer your music to the new platform. If you'd prefer not to switch to YouTube Music, you can download your full library. What's most interesting is that, like most Google product rollouts, the shut down is happening in waves. Some GPM users may still be able to access the service until the wave hits their account.
For now, users with an updated Google Play Music app can revert to an older version of GPM. Turning off app updates and staying on that version might work in the interim. But once Google wipes the servers, the app will no longer work at all. One point of pain for GPM users is that there's no easy way to export your locally stored data.
If you've already downloaded music for offline listening, you can't manage that data anywhere in the app. Yet it still takes up space on the device. Users need to uninstall the app to reclaim that space, which is a hassle on older devices.
Google's first music streaming experiment lasted a full nine years before it died. Unfortunately, YouTube Music is a shoddy replacement that's missing several features. The transfer between GPM and YTM seems to be less than intuitive, with some playlists not transferring at all.
Some artists who were available on GPM aren't available on YTM. But perhaps the biggest and most controversial change is doing away with the concept of stations altogether.
Any stations you enjoyed in GPM will be transformed into playlists when imported into YTM. YouTube Music offers curated, machine-generated playlists instead. GPM stations were more of a grab bag of human-curated content – which is mostly missing from YTM. YouTube Music also hides your uploaded music away in a section of its own.