Does your Apple Music app keep crashing when you select a song? Can't even open it? Try these solutions.
Apple Music is a great experience when it works, but there are always some hiccups along the way. That's especially true if you're streaming music on an older iOS device. Sometimes updates can cause unexpected issues like the app keeps crashing when you open it.
First, make sure your Apple Music app is up-to-date. Trying to open the app without updating to the latest version causes Apple Music crashes. If your app is up to date and still crashing, move on to these steps.
1 – Delete Apple Music and Reinstall
Sometimes simply deleting the app and reinstalling it will fix whatever causes it to crash. You should always try this first if you're experiencing issues that aren't fixed with a simple phone reboot and app update. Here's how you delete Apple Music and reinstall it.
Unlock your iPhone and find the Apple Music app.
Tap and hold the icon until it shakes with an 'X' visible.
Tap the 'X' to delete the app.
Open the 'App Store' and search for 'Apple Music.'
Download Apple Music and launch it.
Hopefully, this will resolve the issue that causes Apple Music to keep crashing. If it doesn't, continue on to step two for more solutions to try.
2 – Check Storage Space on iPhone
If you download a lot of music and podcasts, you may have limited storage available on your device. This issue can cause the Apple Music app to crash if there's not enough space available. Here's how you check your storage space on iOS.
Open the 'Settings' app, then navigate General > Storage & iCloud Usage.
Tap 'Manage Storage' and review the data presented.
Uninstall any unnecessary apps and move photos and video to iCloud storage to free up space.
3 – Reset iPhone Settings
If you've tried both steps above and Apple Music keeps crashing, you may need to reset settings on your iPhone. Doing this will return the iPhone to default factory settings, removing any customizations you've made.
It may also resolve any issues you're experiencing with Apple Music. Here's how to reset the settings on your iOS device.
Open the 'Settings' app, then tap General > Reset.
Tap 'Reset All Settings', then enter your device passcode.
Tap 'Reset All Settings' a second time, and the phone will reboot.
Once the phone restarts, try to sign in to Apple Music. This reset is a drastic issue, but it does resolve most issues people experience with the app crashing. If you're still experiencing problems, continue reading for more solutions.
4 – Is Apple Music Down?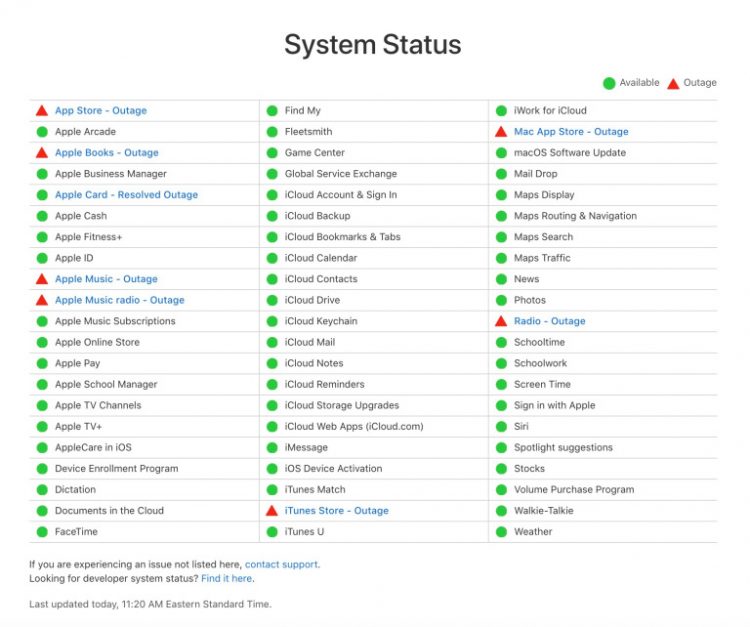 Sometimes when Apple Music keeps crashing, it's because the service itself is down. Several Apple services experienced an outage on February 3, 2021, which led to crashing for Apple Music and Radio, Books, and the App Store on iOS and Mac.
These problems can be identified by checking Apple's status page to see if the services are up. Sometimes service can be partially degraded, which results in weird behavior. For example, some people were reporting Apple Music search results that were severely limited.
When Apple services are experiencing problems, it can also lead to laggy and slow behavior. Sometimes pages won't load and will show blank screens. Apple sometimes addresses these issues via its support Twitter account, but it stays silent more often than not. The only way to know if Apple Music is down is to check the status page.