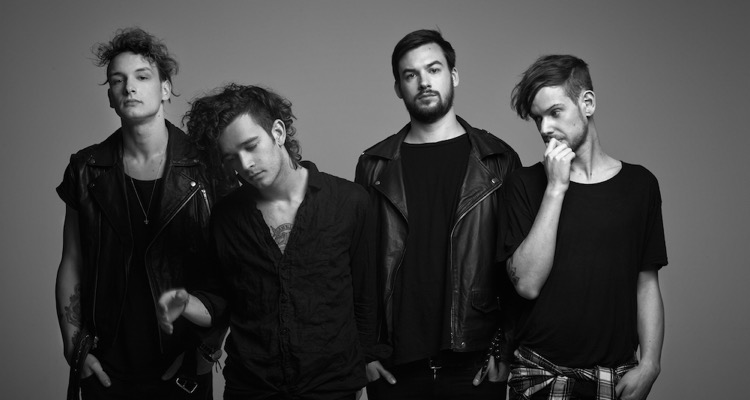 The 1975 have canceled their 2021 tour dates – and offered fans full refunds – due to COVID-19 concerns.
The Manchester-based pop group took to social media this morning to announce the cancellations, which cover "all scheduled touring for 2021," including the four-piece act's July 10th show at Finsbury Park. Fans who purchased tickets to the latter can receive refund information "at your point of purchase," The 1975 indicated in their message.
"These are incredibly difficult times for a lot of people," The 1975 wrote, "and until we can be sure that we will be able to play shows in a way that is safe for our fans and crew, we have decided the best course of action is to cancel our touring so that, where possible, everyone can get their tickets refunded sooner rather than later."
In closing, the 19-year-old band specified that they're currently crafting a follow-up to their fourth studio album, the 22-track Notes on a Conditional Form, which became available to fans in late May of 2020. Additionally, The 1975 relayed that they're looking "forward to seeing you all at a show as soon as it is safe to do so."
That the group cleared their entire 2021 touring schedule underscores the far-reaching questions surrounding the timetable associated with traditional concerts' and music festivals' full-scale return – especially as COVID-19 vaccinations continue to ramp up. On the festival front, Coachella 2021 is set to kick off on Friday, April 9th, while EDC Las Vegas 2021 – which sold out in one day – is scheduled to initiate on May 21st. Plus, Insomniac has booked the (also sold-out) Day Trip Festival for early July, and Bonnaroo is expected to take place in September.
Live Nation reiterated in its Q3 2020 earnings report that it anticipates concerts will return "at scale in the summer of 2021." Moreover, in another testament to fans' desire to resume enjoying live music, more than 80 percent of ticketholders opted to hold onto their passes in anticipation of shows' rescheduled dates, the company relayed.
In a recent interview entitled "Public Health and the Re-opening of the Performing Arts," delivered as part of the APAP|NYC+ 2021 Conference, longtime National Institute of Allergy and Infectious Diseases (NIAID) director Anthony Fauci disclosed his outlook for crowd-based entertainment's comeback.
"The timeline [for a live-event comeback] won't change if what I would hope happens in fact happens. And that is that we need to vaccinate between 70 and 85 percent of the population to get a level of herd immunity where the virus is such a low level in society that it's virtually no threat to anyone," said the 80-year-old physician and immunologist.
In the nearer term, however, Danny Wimmer Presents' President of Live Entertainment, Joe Litvag, said in Pollstar's yearend analysis that his company expects an incremental comeback to take place across most of 2021 – beginning with younger fans' enjoying shows once again.
"DWP's opinion right now is that most of 2021 will be in a constant transition phase of re-opening, and that segments of the industry, particularly those that appeal to the younger demographics will gain confidence quickly and will build faster than the those [sic] that appeal to older demographics," said the former AEG Presents exec Litvag. "But things will progress month by month next year, and [by] spring 2022 we think the industry will be back and fully integrated into the new normal."