Fresh data shows that AirPods' market share remains dominant, but competition is furiously intensifying.
Strategy Analytics published a new report that showcases Apple's strong domination of the true wireless stereo (TWS) earbuds market. AirPods dominate nearly 50% of the market in a year in which Bluetooth headset shipments reached 300 million. But Apple shouldn't be getting comfortable anytime soon.
"TWS headsets drove global sales volumes in the Bluetooth headset segment," comments Ken Hyers, Director at Strategy Analytics. "While the pandemic slowed demand briefly during the first half of the year, sales rebounded strongly during the second half. The Work From Home shift benefitted the entire Bluetooth headset category in terms of sales volume growth."
Apple continues to dominate the category, but despite rosy sales, dominance is decreasing. The lower price of many Bluetooth earbuds in the TWS segment creates lots of competition to dilute the AirPods market share growth.
"Apple maintained a commanding lead in the TWS segment in 2020, but it's commanding share is shrinking as competition intensifies. Strong competition is expected from Xiaomi, Samsung, and Huawei in 2021," the report states. "The TWS headset market is already hugely overcrowded, and despite a strong sales outlook, there will inevitably be consolidation in the years ahead."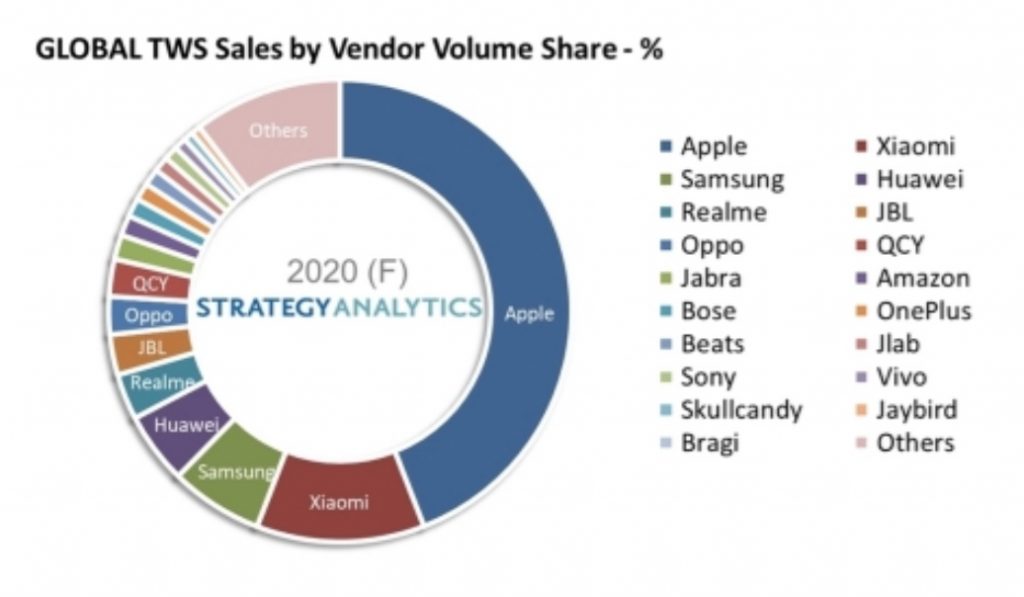 The launch of the AirPods Max will help Apple compete with other players like Bose and Sony. The $550 over-ear cans also support spatial audio, which is the future of live music listening. Spatial audio recordings are a unique experience that require a hardware upgrade to support fully. Apple is betting on that with its first-generation of the AirPods Max.
Strategy Analytics says market penetration for the TWS segment is still low. "Our research shows that installed and penetration of Bluetooth headsets is still low; less than one in ten people own a Bluetooth headset globally, so there is still significant room for growth. As leading vendors are no longer bundling wired headsets with new smartphones, we see huge potential for Bluetooth headsets."
That's a glowing report for the Bluetooth headsets category, even if AirPods' market share growth may slow over the next few years. More people are switching to Bluetooth audio to enjoy their favorite music and podcasts.
Apple's ecosystem is particularly strong since the AirPods can seamlessly switch between multiple devices. Samsung is competing in this area – but these devices are only great if you're fully in the ecosystem. Trying to switch between Android/Linux or iOS/Windows is still a terrible experience.