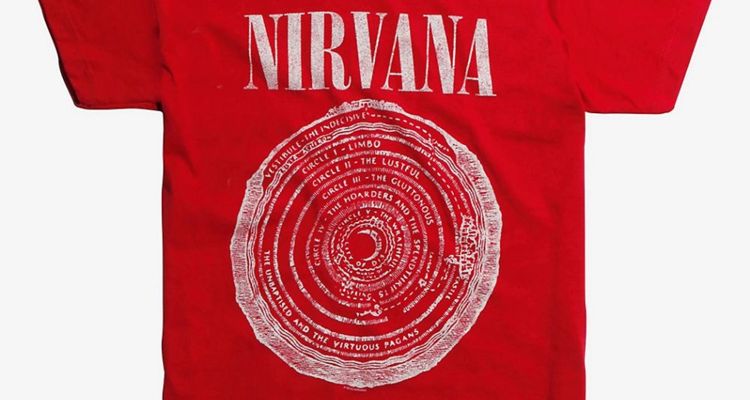 Nirvana is facing a lawsuit for copyright infringement for the design of a t-shirt released in the '90s.
Jocelyn Susan Bundy is suing Nirvana LLC and several other companies over the t-shirt image. The suit says the t-shirt appropriates an image created by Bundy's grandfather – C.W. Scott-Giles. The drawing appeared on prominent Nirvana merch like shirts, mugs, records, and more.
The image is a map of the circles of hell as described in Dante Alighieri's epic, The Divine Comedy. Bundy's lawsuit alleges that Nirvana and Live Nation have used the image without permission and even claimed copyright ownership over it.
Bundy is officially suing over the merch that was released in 1997, but the lawsuit claims the band has used the image illegally since 1989. "In documents filed in two other copyright actions before this Court, Defendant Nirvana has implied that Kurt Cobain created the Illustration or, in the alternative, that the Illustration is in the public domain in the United States," the lawsuit reads.
The lawsuit says that Mrs. Bundy discovered the Nirvana designs on January 20, 2021.
"Further research revealed that some of the unauthorized uses of the Illustration on Nirvana-branded merchandise date as far back as 1989. Further research also revealed that over the years, the band Nirvana and parties acting on its behalf have routinely made false claims of ownership of the copyright in the Illustration by placing false copyright notices on the Infringing Products in substantially this form '© [Year] Nirvana.'"
"Nirvana and some of the other Defendants have maintained this position in their responses to Plaintiff's continuing requests to cease their wrongful conduct in the U.S. and abroad," the lawsuit continues. It seems strange that Mrs. Bundy has just now gotten around to discovering that Nirvana's infringement more than 20 years ago.
Nirvana is no stranger to copyright battles. For the last three years, the band has engaged in a legal battle with Marc Jacobs over its happy face t-shirt design. The Marc Jacobs design features a squiggly yellow smiley face, similar to the band's signature trademark owned since 1992.
The Marc Jacobs shirt features an M and a J for eyes instead of X's and the word 'HEAVEN' instead of 'NIRVANA.' Interesting that in trying to defend the trademark of one of their most famous t-shirts, another is exposed as a potential copyright infringement itself.
The lawsuit names Nirvana LLC, Live Nation Merchandise LLC, Merch Traffic LLC, and Silva Artist Management LLC as defendants.