Music NFTs were huge in the first half of the year – but the market appears to be drying up.
Sales of non-fungible token collectibles throughout January through May 2021 were massive. But a new report suggests sales in every single category is drying up. In fact, sales of NFTs seem to have peaked in May, when $102 million were sold in a single day. Data analyzed by Protos shows that only $19.4 million in NFT sales have been processed in the past week.
That's a drastic decline of nearly 90% when compared to the week surrounding the top of the NFT market in May. The data analyzed by Protos includes several NFT markets that aren't related to music – games, art, and sports, to name a few. But recently-published data from an IMS Business report reveals three months of massive sales for music NFTs before a similarly-steep drop.
Estimated Music NFT Sales – 2021
January – $0.9 million
February – $22 million
March – $26.7 million
April – $14.2 million
May – $1.4 million
As you can see, a huge explosion happened between January and February, with a slight increase in March. But by April, music NFT sales are down nearly 50%. And by May, that number has bottomed out at a 95% drop. Despite the drop in sales, May's music NFT sales are still up compared to January 2021.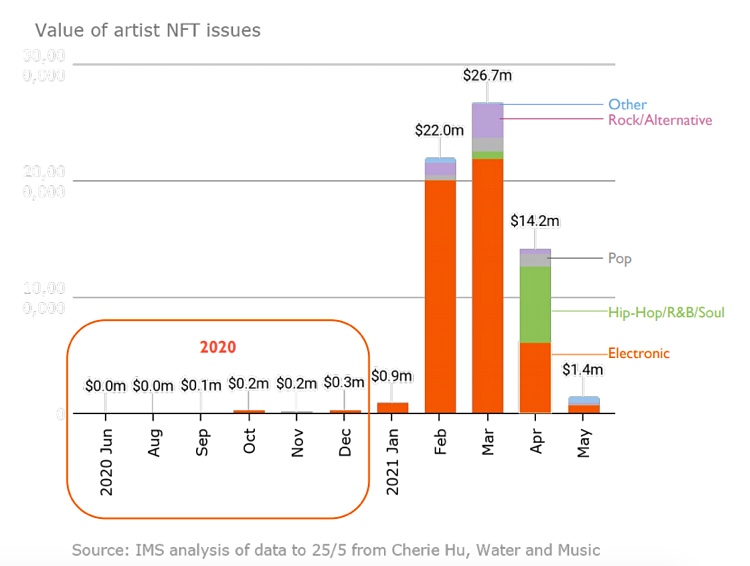 Electronic music artists highly drive enthusiasm over digital collectibles. 76% of all music NFTs issued were in the electronic music category. April 2021 saw hip-hop embrace the NFT market, but that support has dropped off, too. Rock and Pop are also represented in the other 24% of music NFT sales.
While music NFT sales have slowed, it may not point to a total lack of interest. As noted by the IMS Business report, revenue streams from music NFT sales didn't exist eight months ago. "We need to push as many use-cases as we can. To learn. We don't even know what all the uses are yet," says Dean Wilson, manager of deadmau5.
It could signal a cooling-off period as the market learns and adapts from recent use cases. The Kings of Leon have experimented with a 'golden ticket' NFT that provides lifetime benefits to the owner.
It remains to be seen if the prestige of owning exclusive benefits like this will mesh with fans. K-pop already has its super fans, but will that level of dedication translate to other music genres? Part of the prestige in owning limited edition gear is showing it off, but digital tokens lack that aspect for now.