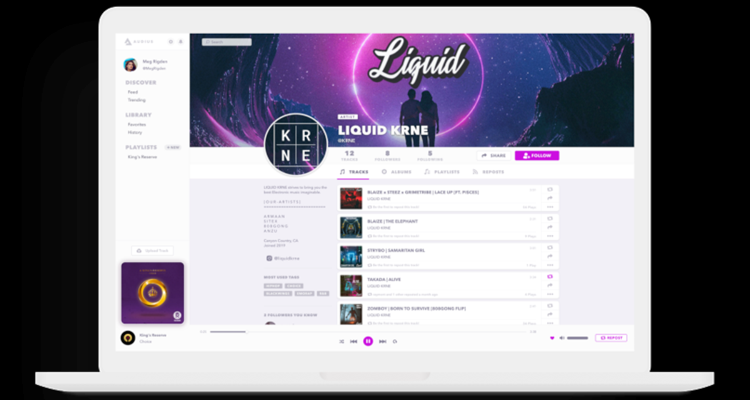 TikTok has launched a partnership with music streaming platform Audius in a first-of-its-kind deal.
The partnership aims to streamline the process of uploading music to TikTok. Audius users can now upload tracks and share them to TikTok, which takes less than a minute. The Audius music streaming platform is built on top of the Ethereum and Solana blockchains, with a focus on artists.
"Any artist can take a song they already have on Audius and just export it over to TikTok in one click," says Forrest Browning, Co-Founder and Chief Product Officer of Audius. "A common way that unsigned artists get their stuff up there right now is by holding their phone up to a laptop while it plays their song, and they add it as background music. It's not great."
There are over 100,000 artists on Audius, including names like Skrillex, Weezer, deadmau5, Diplo, and others. Audius was founded in 2018 and just surpassed 5 million monthly active users in August. It is a first-of-its-kind solution because it relies on blockchain technology to function.
Audius is built on the Ethereum and Solana blockchains, run by a community of token holders. Anyone can buy the AUDIO token, the native governance token for Audius. Top artists and active users can also receive AUDIO tokens as rewards. Token holders have control over the decisions made for the company, similar to shareholders for stock.
After the partnership with TikTok was announced, the price of the AUDIO token surged. AUDIO is trading at around $3.10 at the time of writing, up 86% in the past 24 hours. The price pump of its token has pushed the market cap of AUDIO above $1 billion for the first time – giving the idea of a decentralized Spotify a real go.
"We're proud to be one of the earliest launch partners for TikTok Sounds and to give the artists on Audius a chance to increase their exposure even more," Browning told Digital Music News. Audius believes the partnership with TikTok will help support creators entering the space and introduce those creators to the world of crypto.
Audius does not pay royalties to artists but offers the platform to engage fans and find listeners. TikTok says that 75% of its US users have admitted to finding a new artist via a TikTok video. The TikTok sharing feature is now live for all Audius users, making it simple to share music to TikTok Sounds.