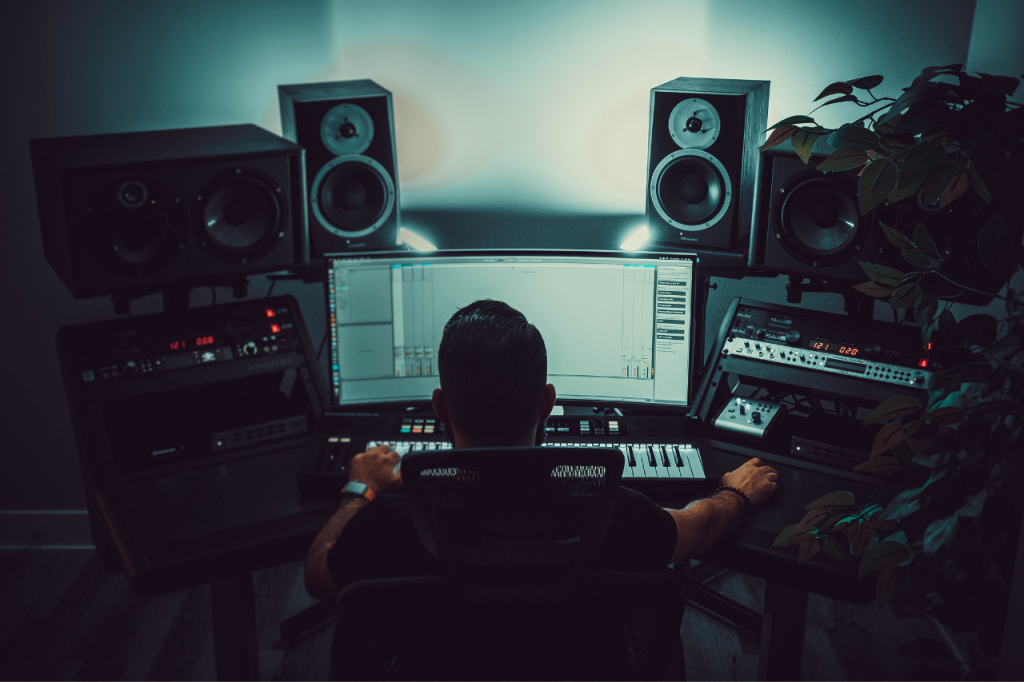 With the rise of audio technologies such as Dolby Atmos on streaming platforms, spatial audio has become unmissable for all artists. Whether we discuss the perspective of well-established musicians or emerging artists, there's no denying that the music industry is evolving, and leaning more and more toward a potential new standard of audio experience.
Sweetwater has been a long-term partner of Digital Music News, which is proud to share this news.
Apple Music launched the Dolby Atmos format on its platform in 2021, making waves in music streaming by giving significant visibility to new immersive audio formats. The following year, the platform reported that most of their listeners (80%) had switched to the spatial audio format. What does that widespread adaptation mean for music professionals?
Spatial Audio Well On Its Way to Become A New Standard
First things first: spatial audio is special because it matches a human's natural perception of sound. At any given time, the human mind perceives and registers multiple sources of noise from our environment. There are several sources of sound when we walk down a street, for example. But when we listen to music in a stereo format, we receive only two sources of sound. With spatial audio, sound sources instantly jump to 37.
Thanks to its partnership with Apple Music, Dolby Atmos is now one of the most well-known formats. Developed by Dolby Lab, it allows the listener to be surrounded in immersive 3D sound. However, that is only one of the many gifts spatial audio brings to the table.
It goes without saying that any spatial audio format has to be taken seriously by all music professionals — especially artists and producing teams.
But there are two primary reasons why industry professionals should stay up to date on the spatial audio trend, and fully embrace it.
To fit the requirements of music streaming platforms and maximize chances of getting playlisted, Dolby Atmos mastering is quickly becoming crucial for artists. Over the last couple of years, the audience for spatial audio mixes seems to be growing. Reports also suggest listener engagement for this format is higher than older formats.
With spatial audio, artistic vision can attain entirely new dimensions of listener experience. Major labels are in a rush to re-record and remaster back catalogs of some of the most influential artists. However, these actions of remastering tracks are not binary. Re-coloring music and dividing parts of it is highly subjective and specific equipment is required to get the job done right. All in all, spatial audio is taking up more space. It is giving artists more freedom to engage and attain specific aesthetics that fit their creative vision during studio mixing.
Staying Ahead Of The Curve: The Best Practices
So what now? Spatialized audio does make significant new promises for the creative process. However, to ensure that mixes fit an artist's unique goals and ideas, the right equipment is crucial. Whether we talk about a home recording studio or a more professional space, the right setup is key. Every artist, producer, or music professional has their expertise and specialty. But when we talk about technical recording details in a studio, not everyone is capable of tackling it effectively.
When setting up a studio with the intention and the gear to create music in these new formats, you need to rely on the right people to guide you and set it up.
This collaboration-led excellence is what Sweetwater had in mind. After starting as a recording studio, gearing up to be on the cutting edge of technology, they created a commercial audio offer that could potentially benefit any music professional. From designing to building, the equipment can be expertly handled and utilized. However, the way these tools are leveraged is what will make or break the final track.
It's all about learning from experience and artistic perception — something Sweetwater launched in their studio with workshops and masterclasses. But what happens once the tracks are finalized as perfectly as possible?
Making Sure That Music Is Rendered The Right Way
If we're working on creating better music, higher-quality audio, and finding a better way to convey emotion through music, listeners should be able to hear it anywhere. When composing and mixing in a studio, we consider how it would sound at home or in cars. However, venues such as stores, restaurants, or even elevators are often overlooked. This new technology and format demands novel requirements of how we play music in outdoor venues and businesses. If these places aren't equipped with the right hardware to deliver new formats, how can we render the music the way it was created?
With a focus on solving this problem, Sweetwater launched their Commercial Audio service. This bespoke service designs, builds, and installs the entire sound system in accordance with architectural and budgetary limitations. For obvious reasons, nobody expects contractors or business owners to be well versed in sound systems' and speakers' technical aspects and placement in various spaces. Sweetwater will take the initiative to create the right spatial audio atmosphere for any public place.
Spatial audio has introduced a new vision of how music is formulated, created, and broadcasted. As a result of this evolution, the general perception of music is also gradually shifting. Demand for this format continues to grow, leading to inevitable implications for the music industry and the broader retail side.
About Sweetwater
From a recording studio to the first online retailer of commercial audio in the US, Sweetwater has made the journey deeply rooted in professional music. Having gone through the discovery of spatial audio and the testing and setting up of new equipment, Sweetwater has gained extensive experience of spatial audio, and how it will impact the industry. One of the first steps that should be taken is picking up the right hardware for listening to audio. That focus will vastly impact the creative process in a studio — and amplify the final listener experience.
With the capability of setting up sound systems in recording studios, hair salons, and even Olympic stadiums, Sweetwater is here to support upgrades and developments. Recording arts is a job in itself; yours is music!