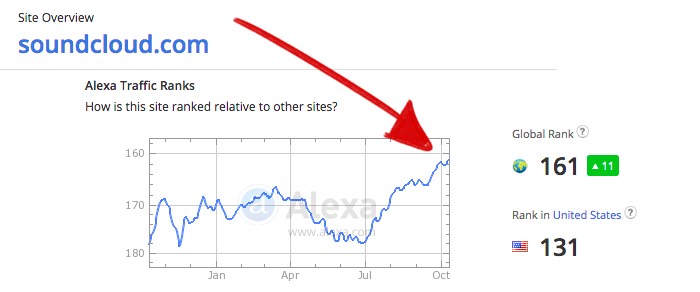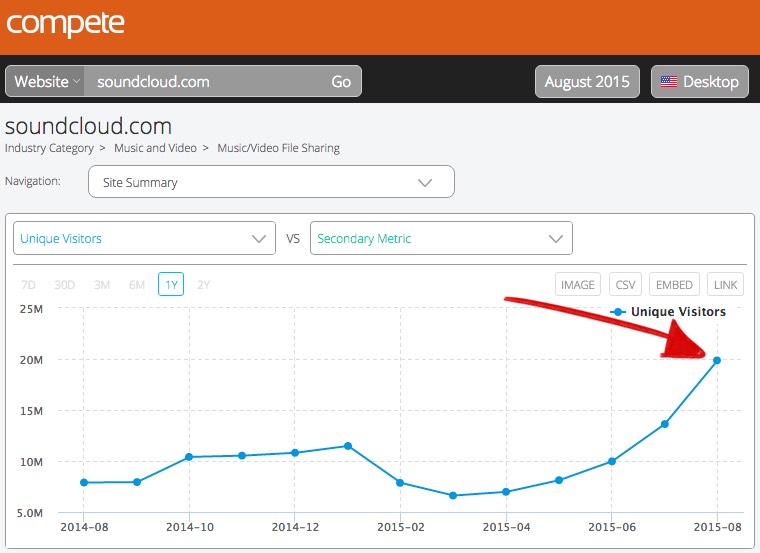 If SoundCloud has 99 problems, why isn't falling traffic one of them?
As this article is being written, Soundcloud is battling a serious copyright lawsuit from UK-based PRS for Music, a situation that has placed a pending mega-agreement with Universal Music Group on ice.  Sony Music Entertainment, meanwhile, has been locked in unfruitful negotiations for more than a year, and is the most aggressive when it comes to content blocking and removals.
The stand-offs have wreaked havoc of hundreds if not thousands of artist pages, not to mention users.  And these aren't Average Joe artist pages.  Just last month, Skrillex asked Soundcloud to please stop ripping down his content, just one of several electronica superstars to voice frustration.  "There's kids that only go on SoundCloud and will never buy at iTunes and even never go to Spotify, and that's how they listen to music," Skrillex told Charlie Rose in mid-August.  "And what that does is it eliminates a huge asset and is cutting off our music to an audience that could potentially come to our shows and be fans."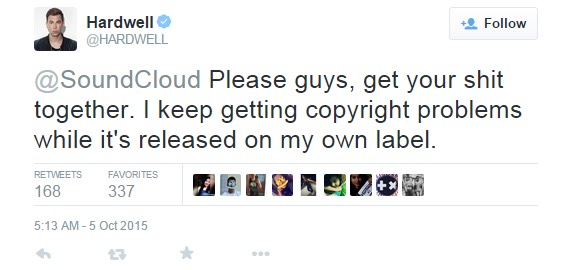 Hardwell is another top-ranked DJ to demand changes.  "Please guys, get your shit together," Hardwell tweeted earlier this month.  "I keep getting copyright problems while it's released on my own label."

And the DJ list goes on, though rumors are circulating on a portfolio of more very bad things.  With deals pending and litigators threatening, well-moneyed investors have grown skittish.  Part of the problem is that investors want to build businesses, not pay lawyers, but there's also the change that the investors themselves get snared in legal liability actions.  All of that is apparently choking the cash supply, according to sources, and putting a squeeze on future development initiatives.
The next steps seem easy to predict: DJs are already migrating to different platforms, including iTunes podcasts (which works amazingly well).  That means users will soon follow, but for the time being, none of that seems to be happening.  A quick look at SoundCloud's traffic shows that volumes have roughly doubled in the past year alone, based on US-based Compete traffic that runs through August.  Closer to the present, Alexa's rankings continue to improve, with a summer surge that is showing no signs of abating.