N.W.A manager Jerry Heller is now suing for roughly $250 million in damages over his portrayal in Straight Outta Compton, one that he alleges is misleading, libelous and false.  The suit includes $35 million in monetary damages, $75 million in punitive and exemplary damages, plus 'all gains, profits, and advantages obtained by Defendants,' which could translate into all profits made from the movie.   That puts total claimed damages at roughly $250 million — and counting — depending on future, post-cinema receipts.
The Defendant list is exhaustive, and includes direct F. Gary Gray, Ice Cube, Dr. Dre, the Estate of Eazy E, and Comcast-owned NBCUniversal.
The contention is that Heller was unfairly and inaccurately cast as a villain in an ultimately defamatory and unauthorized work, an actionable offense.  Despite some positive and complex character treatment, the movie ultimately portrays Heller as a scheming and slick manager, one whose shady dealings ripped the group apart and fomented a war between its founders.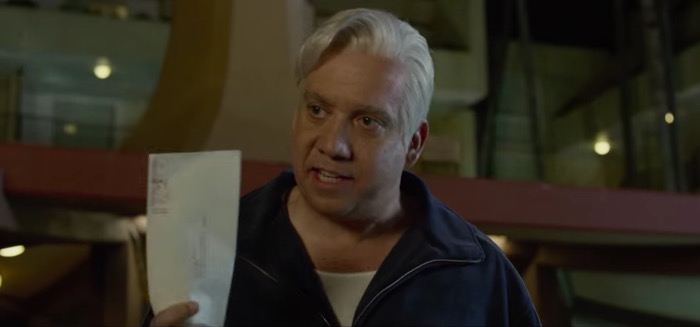 Specific scenes of the movie are being contested in the suit, including Heller withholding a $75,000 check from Ice Cube, inducing Dr. Dre and Cube to sign bad contracts, and getting fired by Eazy-E.  The broader 'sleazy manager' portrayal may have stung the most, especially given the strong suggestions of exploitation.
The movie has now grossed over $161 million, according to Box Office Mojo, with a budget of under $30 million.  At present, profits stand at more than $131 million and counting.
Heller, depicted by the brilliant Paul Giamatti (pictured), actually comes across as a complicated and oftentimes warm character in the film.  Unmistakably, Straight Outta Compton steered Heller towards the villain character that Hollywood loves, though Giamatti breathed a complex and avuncular realness into that bias.
Outside of the film, Heller has certainly been assailed as a crook by members of N.W.A, though in the film, he's also the level-headed businessman in an extremely noisy, violent, and controversial storm.