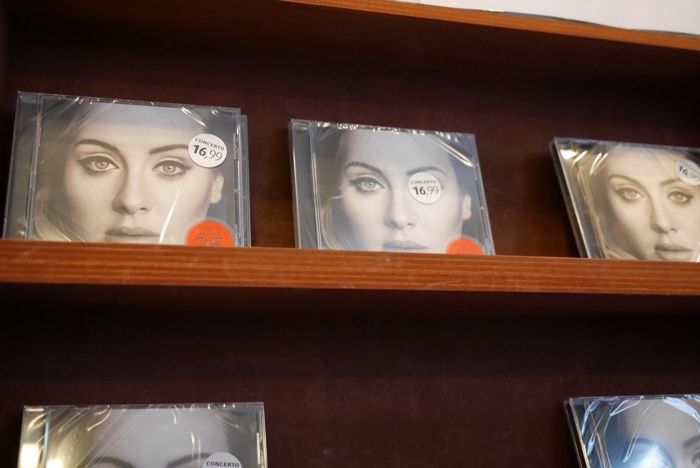 Adele's super-selling 25 is now careening towards 10 million units sold worldwide, with the singer now comfortably crossing 8 million-mark.  Just this (Friday) morning, Nielsen Soundscan revealed that 25 had sold 5 million units in the US alone, while UK sales rapidly close on 1.5 million.
Those are the heaviest-selling territories, though Canada and Germany are now crossing the 500,000- and 400,000-marks, respectively, for a combined total 7.5 million across the four countries alone.  Separately, Australia is quickly approaching 300,000 units sold, a remarkably strong figure for a country of roughly 25 million inhabitants.
Here's a quick country-by-country breakdown, rounding towards projected thresholds this weekend:
United States: 5 million.
United Kingdom: 1.5 million.
Canada: 500,000
Germany: 400,000
Australia: 300,000
Italy: 50,000
Belgium: 50,000
South Africa: 80,000
Poland: 40,000
Hungary, Japan, Korea, France, Spain: 100,000+ (estimated)
Running Total: 8.02 million
Looking ahead, 25 is likely to experience another surge ahead of Christmas, though unclear if how many consumers have already purchased the disc.  Either way, this is solidly the best-selling album of the year, with 25 soon entering the pantheon of best-selling albums in history.
 Image: Franklin Heijnin (flickr); CC by 2.0.
Join the DMN info-brigade! Send tips to [email protected]; or call (310) 928-1498.