As of May, Netflix will be charging $9.99 a month for the two-stream HD plan.  That's a 25% increase.
In May of 2014, Netflix began increasing its monthly subscription prices, but those that signed up prior to the price increase were exempt from this for two years.  Now those two years are up, the company is sticking to its guns and planning to charge its  17 million recorded users an extra $2 a month.
There's no escape from this increase, so hide your kids and your wife.  This might be the smallest first world problem ever, though a small percentage of users will probably cancel their subscriptions once they see the price increase on their statements.  The majority are expected to stay, even those that (a) notice and (b) are surprised.
The response on Twitter to the news was mixed.  Some people are saying 'screw Netflix', and some are completely 'cool with the Netflix price hike'.


Part of the increase is justified.  The service has been bulking up its original content for years, with 'Orange is the New Black', 'House of Cards', 'Bloodline' and several other massive hits.  But expanding in this direction can be costly, and now that Netflix has positioned itself as a global leader of entertainment, it may be recouping some of that investment.
Which brings up the possibility that Netflix is wildly under-charging for its content.  Indeed, many subscribers of the service share the same thought that Netflix's 'original content alone is well worth more than $9.99/month'.  That could bode well for subscription plays on the music side, and validates firm, $9.99 price points from the likes of Apple Music (though, music subscription services rarely invest in new music content).
The only issue is, Netflix hasn't even told its customers yet.  Subscribers of the service have been finding out through online publications and social media networks.  Netflix has only indicated that it will notify subscribers via email.
But when? It seems as though they only spoke out after the backlash of the media coverage.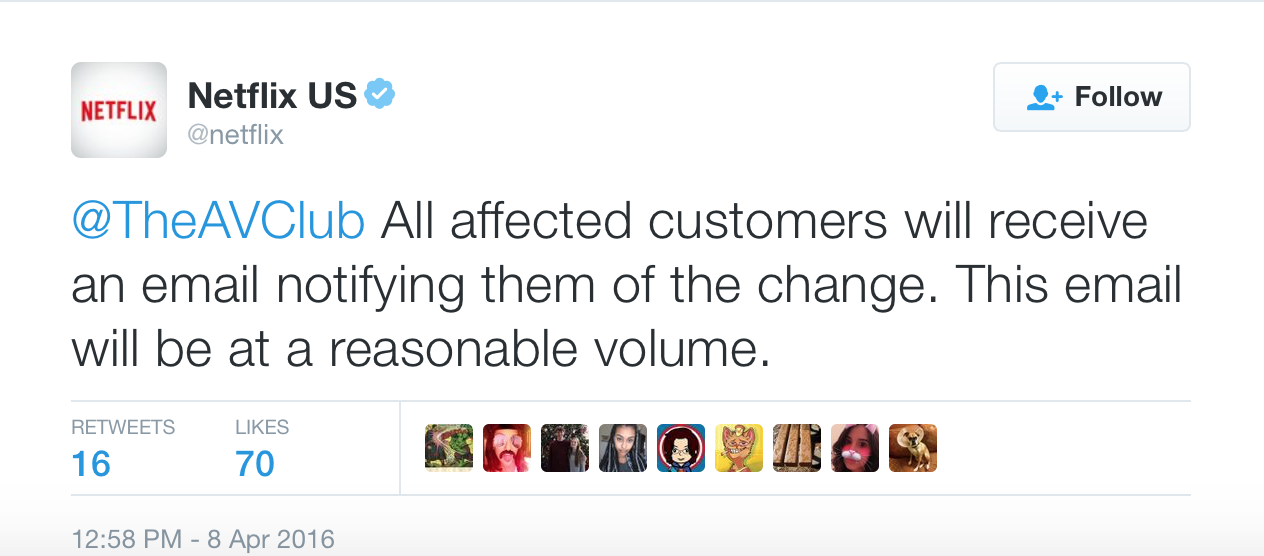 (Image by moneyblognewz, Creative Commons, Attribution 2.0 Generic, cc by 2.0)