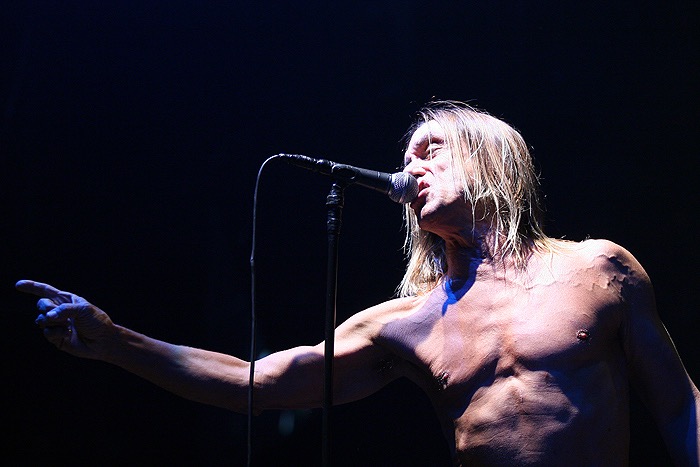 It should never come as a big surprise when we hear an aging musician spout off their antiquated opinions about digital music distribution.  I mean, you'd be pretty pissed too if you used to sell millions of CDs for $20 and now if you're lucky a half a million people will buy one or two songs off the CD for a buck (if they don't just stream it for free or pirate it).
However, it should at least come as slightly more of a surprise when it's a punk icon like Iggy Pop, a man who by all accounts doesn't give a shit about social norms and traditions, a man who is known for early career antics like whippin' little Iggy out on stage to get some air if you know what I mean (and if you don't… I mean he used to show his cock to the audience during performances).
Iggy Pop's hot take is a little different. He's not upset about not making any money, in fact quite the opposite; he takes issue with how easy it is to become a rich performer now. The Guardian reports that while Mr. Pop was promoting his new documentary at Cannes, he had this to say:
The digital age has made collecting money so incredibly efficient. When we started our band we didn't know what publishing was. Now you can push a button and get rich quick. It might get to the point where it's going to grip everybody by the shoulders and shake us and then throw us down and get rid of us.
Did you hear that everyone?  Iggy said we can just put some shit on the Internet and we'll be rich!  There are so many things wrong with this statement/mindset that I barely know where to begin.
Sure, Beyoncé can go ahead and release an album digitally with little to no hype (as she did with the self titled Beyoncé in 2013 and then again with Lemonade this year) and instantly start seeing the cash roll in, but that's because she's Beyoncé. She's been doing this for about 20 years now, built a name and a massively loyal fan base, and continues to create a product that a large number of people want to consume (and some of them even want to pay to consume it!)
The other thousands of artists attempting to get rich through the ease and convenience of digital distribution? They're not doing so well.  DMN reported in April that a Canadian independent label received about $1,700 US for over 2.5 million YouTube streams.  That's shared among "roughly a dozen artists".  Earlier in the same month, DMN posted another article about an indie band in France that made 27 euros in a little over a year.  That's about $30 that this band received in 15 months by "pushing a button" and instantly having their music available worldwide where anyone can listen to it. Not exactly keeping them neck deep in baguettes is it?
Shitty streaming royalties aside, if anything it has made discovery just as hard, if not more difficult. It may seem easier than slugging it out in disgusting clubs back in the day for $10 a band member, hoping you might get lucky enough to perform in front of some label rep who needs a "fresh sound", or sending your demo tape in to every radio station or label that might give you a shot, but now there's so much out there, the market is so saturated with artists in every genre, being discovered still means you need the right balance of talent, marketability, and of course, luck.
Luck still plays a huge part. Fun fact: Justin Bieber is a multi-millionaire because Scooter Braun doesn't know how to search properly. He discovered him by accident while looking up another singer. What if Scooter Braun knew how to use Google? Who would be our easy target instead of Bieber? He'd possibly still be hanging out in his mom's house an hour up the highway from me making YouTube videos. Meanwhile some other 22 year old would be idolized by millions of teenage girls and be made fun of for a haircut he had 5 years ago.
And just because it's on the Internet doesn't mean anything. Rebecca Black made a name for herself with Friday, the hilariously awful viral hit that should prove exactly what Iggy Pop's talking about; just put something, ANYTHING, on the Internet and you've got your college tuition paid with some booze money left over. But it's the exception, not the rule. There were a dozen or more teenage girls whose families spent the same $2000 Rebecca Black's family did with Ark Music Factory that didn't have anything more than a poorly made video to show for it. Just because it's on YouTube doesn't mean you're instantly going to be famous, and just because you're famous doesn't mean you're going to be rich (believe me… over half a million fans and 130 million views on YouTube gets me all of the hate tweets a real celebrity gets with none of the mansions or Maseratis).
And meanwhile, why is Iggy Pop defending the old label ways of doing things, suggesting that it was better back then? You'd rather people end up slaves to major companies, having their music pimped out for commercials, cartoons, and video games, and seeing pennies on the dollar, sometimes even fractions of pennies, in royalties? That doesn't seem very punk at all. Sure, that French band made $30. But that's THEIR $30. Their hard work and talent isn't going to pay for some music exec's boat (well, for $30 it'd be a toy boat for their kid's bathtub, but you know what I mean!)
Perhaps even more hypocritical is this excerpt from the Guardian where he mocks EDM:
While he likened analogue technology to "throwing an amp into the spirit of man," he grimaced as he mimicked a techno beat. "It's like: woah, you know! Why don't I just die now."

Iggy recalled being on a beach recently when "a big yob from Serbia" approached to praise his music while also saying how much he enjoyed "new techno and electronic".

"You gonna be polite," said Iggy, recalling his response, "but then when the guy walks away you're gonna be like: 'Oh fuck you, Igor.'"
Doesn't he realize that this is pretty much exactly how people felt about punk and harder rock in the 70s and 80s?  "Oh, this is just some noise, this doesn't take real talent, these people can't even actually sing or play instruments."  Now it's "Oh this is just a bunch of stupid computer noises, this doesn't take real talent, not like punk and metal where they play their own instruments, that's real music!"
But back to digital distribution and the ease of being discovered. Thing is, this will always be someone's mindset. I'm sure in the 70s when Iggy Pop was starting to make some money, there was some 69 year old dude saying "back in my day, we couldn't just make money by pumpin' out a bunch of records, all we had was a smokey room, playin' instruments that didn't plug into the wall for 40 people who weren't even payin' attention, AND we kept our clothes on while we did it, and all we got was some free whiskey and a room for the night at the hotel we were playin' at, and that's the way it should be. Now it's way too easy for these kids to get discovered and get paid."
It's funny, for an industry that is all about the next new fad, the next big thing (jazz, R&B, rock and roll, punk, funk, disco, boy bands, girl groups, dance and every other genre that's come and gone and come back again), it's one that seems deathly afraid of change.
NOTE: Considering the only way he got this gig was because he's famous on YouTube, Buckley might be a little bias about digital distribution.
Image by Alex Const, licensed under Creative Commons Attribution 2.0 (CC by 2.0).