After paying $1,000 to play LaconiaFest in Laconia, New Hampshire, a band learned that the headliner for that evening, Sevendust, had pulled out.  They found out right before they were going to make the three hour trek to the festival.
This band started inquiring about what happened, but their point of contacts were MIA.  They could only go off of what LaconiaFest posted on the Facebook page, which was that the remaining days of the festival were cancelled.
And they were left $1,000 in the hole.
LaconiaFest was a 9 day motorcycle music festival running from June 11th through June 19th.  I was initially tipped off to some shady practices going on when a reader sent me his correspondence with a booker of the festival.  They were told that they had to pay $1,000 to play a 30 minute set.  Set times, stage location and set length was not guaranteed.
The headliners of the fest included Steven Tyler, Ted Nugent, Bret Michaels, Sevendust, Fuel, Saving Abel, Sebastian Bach, P.O.D., Dope, Lita Ford and Buckcherry.
Promoters told bands that 30,000 people would be attending.  However, The Laconia Daily Sun reported on June 14th (4 days into the festival) that attendance thus far had barely topped 200 for any of the nights.
Most bands were required to pay a deposit of at least half the money ($500), and they were given 40 tickets to sell for the suggested (face value) price of $45.  Bands were required to pay the remaining $500 before they took the stage and they could keep whatever profit they made.  However, some bands paid the full amount up front — weeks before the festival even started.
One of the primary bookers of LaconiaFest, who asked to remain anonymous because of the legal actions being taken, told me over the phone that she estimated that 75% of the bands she booked had sold all of their tickets.  I spoke with a few bands and some sold just enough tickets to break even (not counting travel expenses).  Others didn't sell any tickets.
But because of the low turnout the first day, LaconiaFest organizers opened up the festival for free on the second day.  Because of this, fans who purchased $45 tickets were quite upset.  And because fans purchased tickets directly from the bands, those fans asked for their money back from the bands.  But the bands already paid the festival.  At this point, the festival has offered no refunds to anyone.
One of the bands that played two days of the festival, One Time Mountain, were required to buy $1,500 ($750 a day) worth of tickets. They sold just enough to break even.  They estimated that there were about 25-30 people at their set their first day.  The next day, there were 35-40.
Because bands had been canceling left and right, One Time Mountain was asked to come back and play another day (for free).  But when they showed up for load in, they were turned away because they were told that the booker had made a mistake.
Valor & Vengeance was scheduled to perform (and get paid to play!) and were supposed to get flown out from California for their set.  A few of their crew members flew out days prior and witnessed the promoter of the festival, Tyler Glover "pistol whip a production person in the production office and shoot at the floor next to him."  The crew also heard that the credit card used to put up Lita Ford in a hotel was declined.  She was left stranded in town at 2:30 am after her set.
Valor & Vengeance told me, "[The festival] did not honor the agreement with our flights and hotels" and so they did not make it out to New Hampshire and did not perform.  They lamented,
"We had fans message us that came from multiple states and Canada to see us perform as well as friends and family that traveled there.  It's a real shitty thing that happened."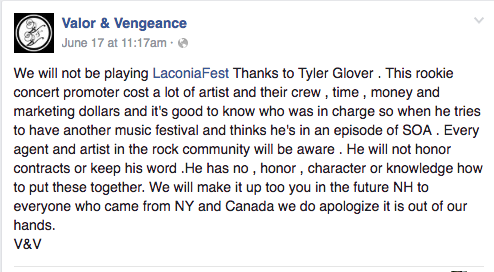 A few of their crew members flew out days prior to their show and witnessed the promoter of the festival, Tyler Glover, "pistol whip a production person in the office and shoot at the floor next to him."
Wednesday, a booker (who wasn't on site) received calls from one of the bands she booked.  They said that there was no crew on the grounds.  Apparently, the grounds crew never got paid so they stopped showing up.  The band Leaving Eden stepped up and acted as a fill-in crew to help keep the festival going.
It was estimated that about 4,500 – 5,000 people attended Steven Tyler's performance Wednesday night.  And nearly the same for Bret Michaels and Ted Nugent shows the following nights.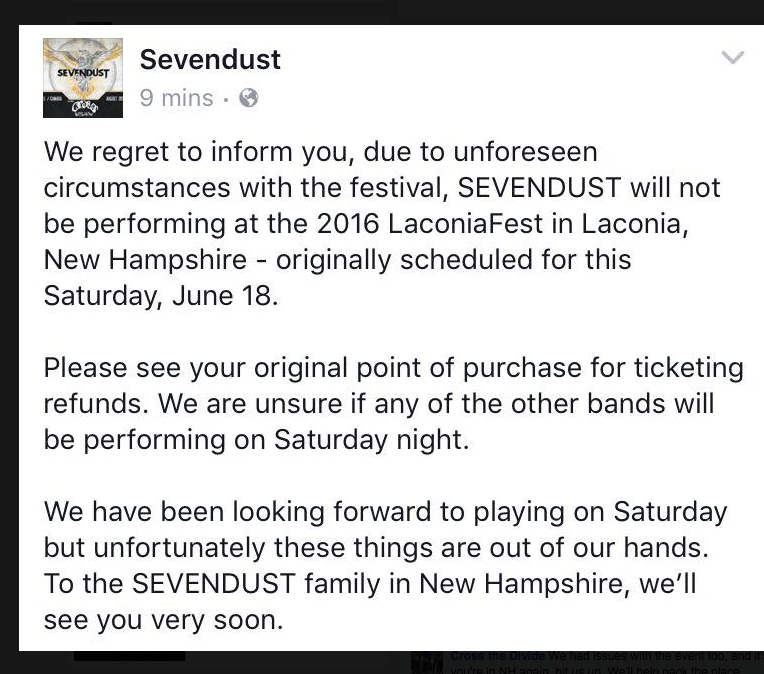 Michele O'Toole was an attendee I spoke with who purchased a $45 ticket for the day Bret Michaels performed.  She also purchased a $45 ticket for the day Ted Nugent performed, and a $65 ticket for the day Steven Tyler performed.  All in advance, all online.  However, many people were let in for free or for $5 the day of because the turnout was so low.  O'Toole told me,
"I was a little miffed but not much I could do.  I did get angry when security wanted to take my printed ticket (even though I have them saved to my computer).  'You didn't keep tickets the past 2 nights, why now?' I asked.  She directed me to the main desk where the lady from yesterday who mentioned how unorganized they are, gave me Tyler Glover's cell phone number.  I'm sure that number has been changed by now.  Then both me and my boyfriend were given two free drink tickets each.  Gee – thanks!"
WMUR 9 ABC, an affiliate station out of Manchester, reported on the sad fate of electrician Michael Smith.
He was hired to setup the stages, is still owed $8,000 by LaconiaFest.   Smith said:
"A lot of people put in a lot of hard work and the end result was nobody was paid.  I knew something was up after a day or two of trying to make payment.  I was getting told one story after another.  Fingers were pointed this way and that way."
It seems all roads lead to the co-producer of the event, Tyler Glover.
Everyone claims he skipped town last Wednesday with the money.  The band Enemy Remains, who was supposed to play last Saturday, vented on Facebook.  They stated that they heard that the promoter (Glover) made off with $300,000.  Others I spoke to estimate this number to be around $400,000.
Tyler Glover does business under Vesslar Global Partners.  The LLC was registered in North Carolina.  Their mailing address, 1400 Mount Jefferson Road, Suite 7, West Jefferson, NC 28694, is the address for Go Postal.  Go Postal confirmed that Glover has a mailbox with them.
Update 6/22/16 2:12PM: Tyler Glover responded stating:
"90% of the news out there is so untrue.  Everyone is just about paid.  Money was stolen.  I never left with hundreds of thousands of dollars.  Just want to do it right."
For all you bands out there wondering if you should ever pay to play a festival.  Please heed this warning (and all my others for f*cks sake!).  DO NOT PAY TO PLAY.  Period.
A festival that charges bands to play or requires bands sell tickets for them (and is left on the hook if they do not sell all their tickets) should not be a festival.
+Should You Pay To Play? Here Are The Worst To Best Deals In The Country
No legitimate festival charges their bands to play.
Shady practices like these are also employed by Revolutionary Entertainment Group, Afton and others.  And they always prey on naive musicians who don't know any better.  They just want a gig at an impressive venue or festival on a big stage.
+You Can Play This Festival… If You Pay $1,200
I encourage every artist reading this to turn down any "promoter" that requires you to buy tickets and resell them to your fans.  If for no other reason, these kinds of "promoters" clearly do not know how to run a festival.  And you may be left out to dry like so many bands were here.