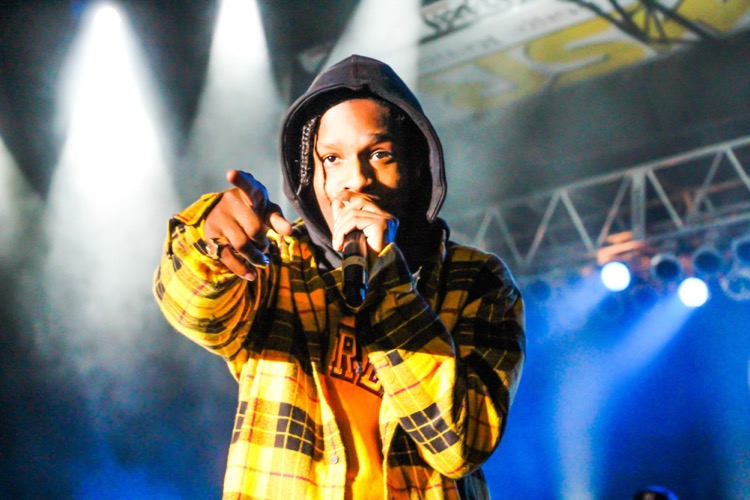 A$AP Rocky is drawing heat for criticizing Black Lives Matter.
Black Lives Matter has now become a groupthink 'bandwagon,' according to A$AP Rocky.  The rapper, undeterred by heavy criticism for failing to fully support the movement, is also now defending the controversial 'All Lives Matter' counter-movement.  "I hate when the bandwagon stuff start,"A$AP Rocky said during an interview on radio station Power 105.1.  "I mean, how come, you know, black lives only matter when a police take 'em, when a police officer takes it?  And it should be like, black lives, it should matter when a black life take it.  You know what I mean?"
"It should always matter. All lives matter!"
Rocky's comments reflect several criticisms of the Black Lives Matter campaign, though his support for 'All Lives Matter' could have ramifications.  Earlier, M.I.A. lost her headlining slot at the Afropunk Festival for questioning whether Black Lives Matter should engage other marginalized and impoverished groups, including Muslims and refugees.  Prior to that, Remigio Pereira, a member of the singing group The Tenors, was removed from the group after changing the lyrics of the Canadian national anthem to include the 'All Lives Matter' slogan.  The Tenors continued without Pereira, while a number of venues canceled their performances on allegations of racism.
"I can't relate."
A$AP Rocky's stance is actually stronger than those of both M.I.A and Pereira.  The rapper recently weathered heavy criticism for comments made to Time Out in 2015, an interview that resurfaced  recently.  "I don't wanna talk about no fucking Ferguson and shit because I don't live over there," Rocky proclaimed.  "I live in fucking SoHo and Beverly Hills. I can't relate."
Initially, the rapper questioned why a comment from 2015 was generating such a strong response, while pointing to a misquote.  Sadly, A$AP Rocky had been mourning the death of ASAP Yams at the time, a founding member of the A$AP Mob collective.  Yams, real name Steven Rodriguez, died in January of 2015 after a drug overdose, and A$AP Rocky indicated that his comments were clouded by the loss.
But those concerns aside, A$AP still questioned whether people were rushing to judgment on the killing of Michael Brown in Ferguson.  "People don't know what they talking about. They see what they read," he said while declining to offer an opinion on a community far from his own.  "I don't go to middle American cities. We're in the major markets."
Meanwhile, other artists have been more staunchly supportive of Black Lives Matter, including Ice Cube and Beyonce.  Just recently, Ice Cube refused to stop performing 'F*ck Tha Police,' despite a surge in assassinations against law enforcement officers.
But A$AP seems undeterred by controversy, on this and other topics.  During the same interview, the rapper also defended Bill Cosby as innocent and unfairly tarred.  "Look, I'm not his lawyer, but I do know he's innocent," A$AP continued.  "In the eyes of the law, they said he's innocent. You get what I'm saying? So, nobody talks about that. You get what I'm saying? All we know is that he was accused, he allegedly raped however many woman he raped, which, you got, it's so much issues in the world, you know I'm saying?"