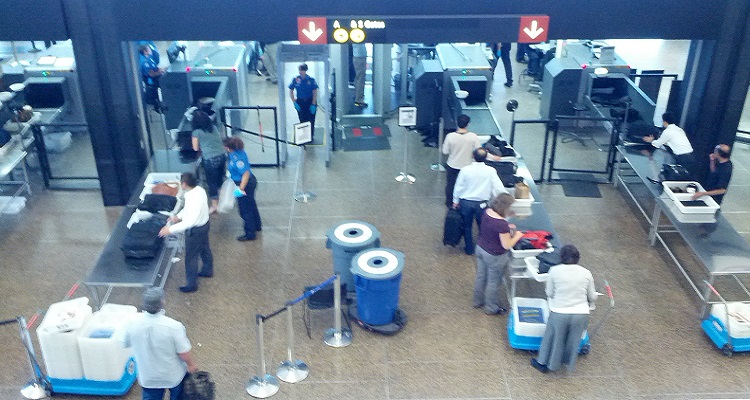 TSA PreCheck: It's not for security, Live Nation says.
Update, 1:30 pm PT: Live Nation has demanded that we remove this article.  More details on that below, the original story follows:
Very, very long lines at the airport is a new way of life in the U.S. for those looking to travel, usually adding from 2 to 3 hours of wait time at the airport. Conscious about this fact, the TSA introduced the PreCheck program, which allows you to speed through security without having to take off your shoes, belts, or light jackets, or take out your laptop or bagged liquids, with a 5 year $85 membership.
Taking a cue from the efficiency of the TSA PreCheck program, which leads to a wait time of 5 minutes or less, Live Nation has recently signed an agreement with IdentoGO, the same private company that handles PreCheck applications for the TSA at airports, to introduce the PreCheck program at certain Live Nation events, like music festivals.
According to a spokesperson that spoke with Pitchfork, the partnership with IdentoGo is "not for security screening purposes."
The PreCheck system appears to bring the same protocol that airports use with priority boarding.  For those who sign up for the Fast Pass program, they'll be given a Fast Pass wristband and with it, be able to bypass the very long lines. According to Consequence of Sound, the Fast Pass enrollment works for both airports and certain Live Nation music festivals, so the "festival Fast Pass is the same as for the TSA Pre-Check… enrolling in one qualifies you for both, so if you're already a Pre-Check member, you're already able to skip the Live Nation lines."
For those who haven't signed up with TSA PreCheck, enrollment takes roughly around 10 minutes, and Live Nation will have enrollment centers available "at certain venues and events."  At a music festival or concert that has the Fast Pass system, all you'll need to do is "provide your nine-digit Known Traveler Number and a photo ID at the Fast Pass gate."
This appears to be very distinct to Live Nation's current Fast Lane system, which is available for most concerts and has you purchase a separate voucher, usually at a low-cost to bypass long lines.  Sounds confusing, and chances are, someone will end up in a super-long, ironic line to figure out which fast-access program they have (or don't).
The official partnership started at the Watershed festival in Washington on July 29. Live Nation will be "testing to program out through the end of next year," and if it proves successful, will continue to roll out the program at not only certain music festivals but all Live Nation festivals and venues.
Huh?
Update (from Paul Resnikoff), 1:30 pm PT: Just got a really confusing call from one of Live Nation PR rep Kaitlyn Henric, who demanded that we remove the article based on inaccuracies.  After seeing no actual inaccuracies in the piece, the problem seemed to be that Live Nation didn't want any connection with 'TSA PreCheck,' or at least, less connection with 'TSA PreCheck,' even though they're partnering with the company that powers that service.  Rather, Henric said Live Nation is doing this deal with IdentoGO as part of  a paid sponsorship relationship which includes setting up TSA Pre enrollment stations in a limited number of venues (she said 20), not to make lines go faster (though, she did admit that this was a benefit for Live Nation and fans).  So, Live Nation thinks we're 'totally misrepresenting the deal,' though I really couldn't figure out how.  
Transportation Security Administration image by Andrew Pilloud, licensed under Creative Commons Attribution 2.0 Generic (CC by 2.0)