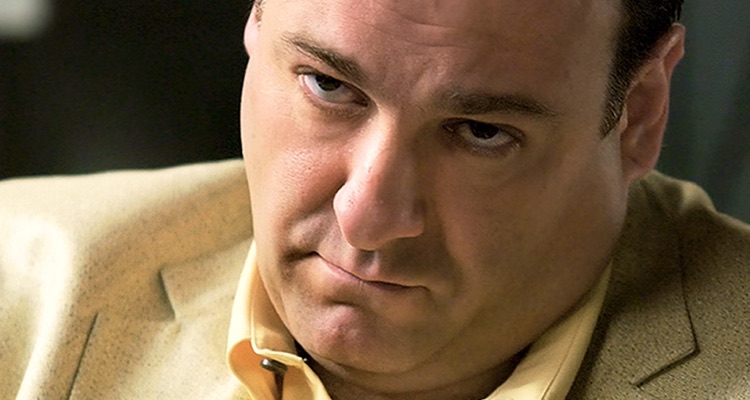 There's something really strange about Live Nation's new TSA Pre pilot integration.
This isn't the first time Digital Music News has been caught in the middle of something at Live Nation Entertainment.  A few years back, the founders of Live Nation-acquired BigChampagne, Joe Fleischer and Eric Garland, lied to Digital Music News about the purchase price, then repeatedly demanded that we delete the article (but didn't say why).  After the acquisition went completely south with Garland booted, Live Nation told us that the acquisition price was about one-third what we'd originally reported.
The latest run-in surrounded a seemingly banal piece about Live Nation's pilot integration of TSA Pre into a number of events, powered by security company IdenteGO.  Given rising concerns over security at large events, especially music events, this sounded like a sensible step, so we wrote a story about it.
A few hours later, we realized we'd stepped into a giant pile of Live Nation fecal matter.  Some PR person named Kaitlyn Henrich was demanding that we tear down the story, citing complete inaccuracies.  But when we started digging into the piece itself for specific factual errors, we actually found no inaccuracies.
So why the insistence?
What followed was about 45 minutes of confusing explanation about why this wasn't actually a TSA Pre integration, even though TSA Pre was being integrated into the pilot.  Instead, this was merely part of a sponsorship by IdenteGO and definitely not for security (which, we'd actually noted in the original text).
"We are not bringing TSA Pre-check to our venues," Heinrich told me.  When I asked if my TSA Pre number would work at one of the pilot venues, she said yes. But, it's not integrated (or something like that).  Next time, we should use their press release, Henrich told us, which had this title:
"IdentoGO® Partners with Select Live Nation Festivals and Venues to Bring TSA Pre✓® Enrollment and Expedited Event Entry to Live-Music Fans Through 2017″
Heinrich demanded we make these edits to our story: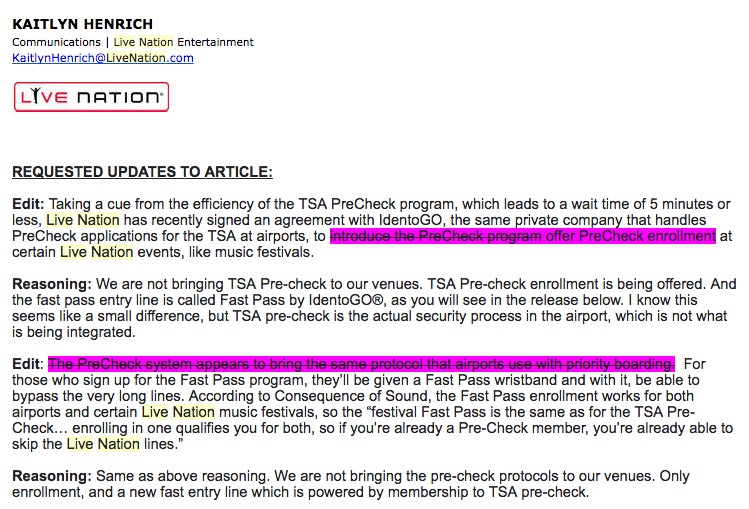 I protested all the confusion, while realizing I could never get that 45 minutes back.  Suddenly Live Nation's 'Chief Communications Officer' Carrie Davis joins the thread.  She tells me I'm being 'hair-splitting' and 'combative'.  "Given your combativeness (which seems misplaced given the topic at hand), I don't think we should waste more time with a back and forth."
But what's wrong with TSA Pre?
It's hard to say what was really driving that drivel of a conversation, but there seems to be something strange happening in the background.  Perhaps the press release wasn't supposed to be released, or, maybe IdenteGO is catching heat for telling the world that TSA Pre is actually run by a private company.  A company that is collecting all five of your fingerprints and tons of personal information in some database (which is of course, totally safe…)
But there's a much bigger, far more massive problem here: gaping security problems at Live Nation venues.  Most recently, Live Nation opted to cancel a few hip hop shows after a major shooting inside Irving Plaza.  In that unfortunate episode at a T.I. show, a Wild West gun battle erupted in VIP between rapper Troy Ave. and some people who were trying to kill him. A bunch of people got shot, and Troy Ave. got away.
But how did all those guns get inside?  Interestingly, Live Nation is now being sued by Troy Ave. over those very questions.  And Live Nation realizes they have a very serious problem on their hands.  Live Nation says this isn't about security, but maybe TSA Pre is the perfectly-timed solution to keep venues safe, whether this company wants to admit it, or not.