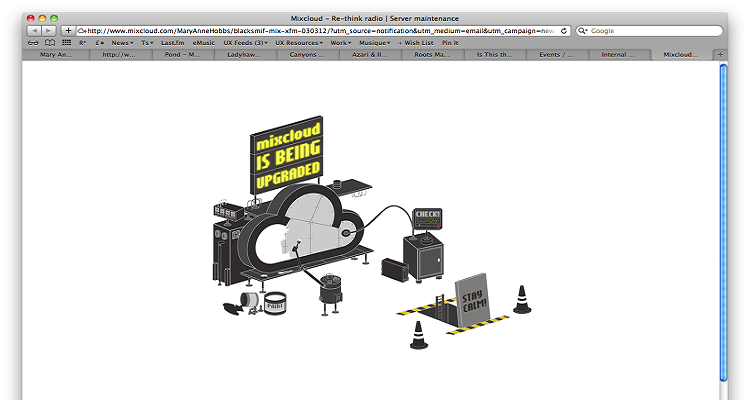 On their Twitter account today, British music streaming service Mixcloud announced that they have finally reached the very impressive feat of 1 million uploaders, and invited users to tweet their favorite Mixcloud mixes. This news also comes at a time when its reported competitor SoundCloud is boasting over 135 million tracks available on demand and over 175 million monthly listeners reached, according to a SoundCloud blog post posted today. But here's the key difference between the two content competing companies: Mixcloud reportedly has never taken a dime from investors, and is also reportedly doing very, very good, with Billboard writing that Mixcloud boasts 10 million shows with an average length of about an hour, with listeners streaming over 2 million shows monthly.
So, what's the secret to Mixcloud's success whereas SoundCloud is reportedly struggling? Taking a closer look at both companies, one main reason could be that Mixcloud caters to audio curators. Mixcloud's Head of Community, Andreea Magdalina said that Mixcloud provides a service that "clears rights and pays royalties for all curators," seemingly putting the curator first, and is built specifically for DJ mixes, podcasts, and radio shows. What about the numbers, though? SoundCloud's blog post shows that the company has a very huge global reach, whereas UK-based Mixcloud is barely "12 million unique listeners every month across all devices" and more than 600,000 users being content uploaders since launching in 2009.  Despite the low numbers, Mixcloud has managed to stay afloat due to its huge emphasis on "user-generated" content as well as keeping its core team rather small, reportedly at just under 15 people.
FactMag.com's article Feb 2016 article explains in detail why they believe SoundCloud may actually, in fact, be doomed, with the top reason being that it spends a whole lot more than it actually makes, similar to how start-up companies did before the dot-com crash. According to Forbes, SoundCloud has been struggling "with both monetization issues (which still exist) and licensing problems," labeling the company as a "a cash-starved company…[that] needs another round of funding to stay alive."
So far, Mixcloud seems above this funding problem due to its focus in building a community that is "dedicated to [Mixcloud's] cause" and have recently introduced a two paid tiers that removes advertisements. Bundle that in with a brand new website redesign, and you've got a company that has reason to celebrate.
Upgrade image by Mr Bootle, licensed under Creative Commons Attribution 2.0 Generic (CC by 2.0)