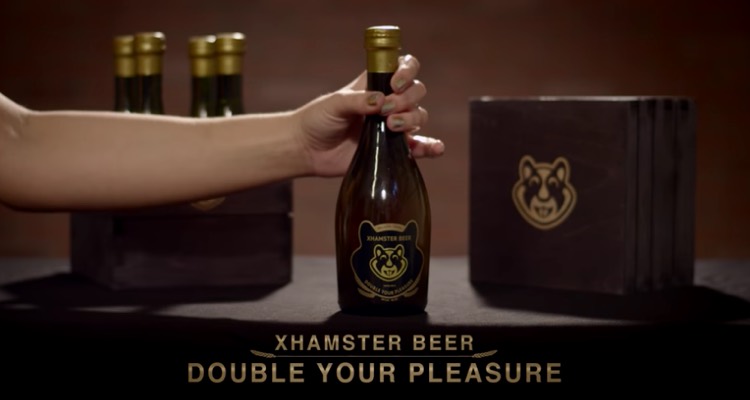 Major adult sites are now using their profits to expand beyond porn.  That includes xHamster, which is now launching its own beer.  Is music far behind?
Music isn't the only media industry to experience massive change over the past two decades.  Pornography, once ruled by DVDs and mega-studios like Vivid Entertainment, are now ceding power to online giants like xHamster, Pornhub, and RedTube.
Now, those winners are taking their considerable profits to expand into new arenas.
For Pornhub, that includes music.  Just last week, the world's largest porn site produced its first music video with Mykki Blanco.  Days later, they were hosting their own music showcase in Miami.
Even RedTube is diversifying into old school paper, with a print magazine hitting racks in the coming months.
Introducing xHamster Beer, the world's first porn beer.
Over at xHamster, a slightly different path is being pursued.  The company has just released the world's first porn beer, a serious Belgian tripel.  According to the company, xHamster beer will feature 8.5 percent alcohol by volume.
This sounds like a pretty tasty brew, at least from the description.  "Complex and full, the scent of honey blends with the malt," the label describes.  "Coriander used moderately.  The yeasts used in two different moments of fermentation give the fullness and the spicy notes that go with lightness to contribute to taste.
"The aroma of hops remains on the palate."
Of course, the porn giant couldn't resist a little tongue-in-cheek fun.  "xHamster beer is cumming!" the site joked (see above).  And just like Pornhub, xHamster is celebrating the habits of its hardcore porn audience.  Which explains this comic introductory bit, filmed in mom's basement.
Hey, why all the shame?  "It's a perfect Belgian tripel, with a good head and a perfect body," the basement 'inventor' jests.  Take a look.
Order yours here.