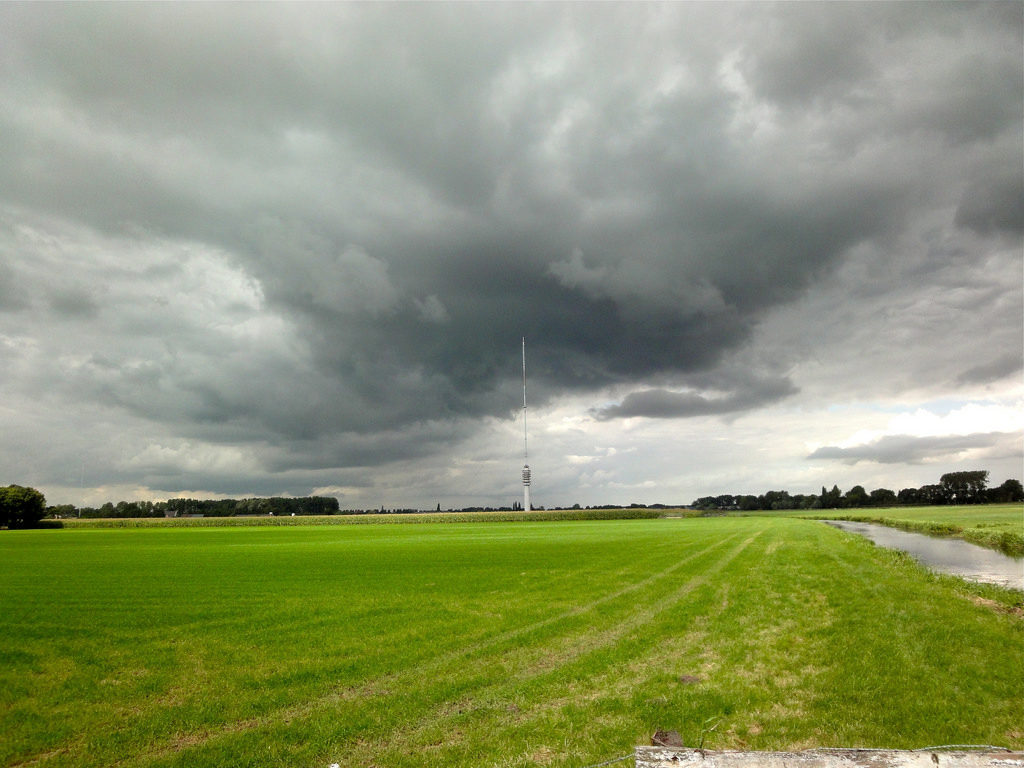 AM/FM radio plays the same songs over and over again.  There are tons of ads.  The deejays don't talk like normal people.  But why does radio have to suck so bad?
Thankfully, there are now plenty of alternatives.  But back in the day, people were basically stuck with either (a) their CD collections or (b) crappy AM/FM radio for music enjoyment.  And option (b) really, really sucked.
Actually, it still completely sucks.  Stations play the same 17 songs. The ads go on forever. The deejays use schlocky voices that segue into Chevy ads.
So who's still listening to this crap?
Actually, millions of Americans, in every major market.  I guess there are millions across Europe and Asia as well.  And despite endless predictions of its armageddon, traditional radio somehow survived.  In fact, it's still a major player in the car, where a giant percentage of music listening occurs.
This isn't imaginary.  A recent research report showed that traditional, 'terrestrial' radio is still holding its own, despite raging competition from podcasts, satellite radio, on-demand streaming services, and online radio services like Pandora.  Technology sometimes moves slower than we realize.  And people love the 'turn it on' convenience, and the price (i.e., $0).
All of which means that traditional, AM/FM radio still has a ton of influence over what people listen to.  And, subsequently download, stream, or purchase as CDs (yeah, those still earn billions in revenue annually).
So why isn't there more variety on traditional radio?
According to one of the biggest managers in the music industry, it's all about collusion.  It's pretty simple: major broadcast stations are a flat-out cartel.  That's according to Irving Azoff, who manages mega-stars like the Eagles, Christina Aguilera, Maroon 5, Bon Jovi, and Journey.
Azoff, who started his own songwriter performance rights organization (PRO) to fight for songwriters, is now taking 10,000 stations to court.  That's right: he's suing ALL of them.
The 10,000-strong collective is represented by the Radio Music Licensing Committee (RMLC).  Azoff's PRO is called Global Music Rights (GMR), and represents 71 notable songwriters.
Actually, the RMLC first sued Azoff for trying to squeeze them on songwriter royalties (as first reported by DMN).  Now, Azoff is slamming back, and countersuing the RMLC over similar, anti-trust violations.
In other words, this is getting ugly, really fast.  Strangely enough, both sides are accusing the other of creating a market stranglehold.  Now, they're trying to strangle each other in court (which is always awesome for the lawyers).
Inside the industry, Azoff has a reputation as one not to f–k with.  "This is the most important fight of my professional life," Azoff wrote DMN in an email. "I will not stop the fight for fairness to artists and songwriters."
90% of all radio revenue.
Cartel means control, and it means muscle.  According to GMR's lawsuit, the 'radio cartel' controls more than 90% of all radio revenue in the US.  That amounts to 245 million listeners a week, with a 10,000 station army.
But Azoff's GMR alleges that this cartel not only controls selection, it effectively squeezes songwriters.  All of whom are forced to play along for scraps.  "This cartel has been a smashing success," GMR attorney Daniel Petrocelli of O'Melveny & Myers explained.  "Music is the lifeblood of terrestrial radio but, because of the conspiracy, owners of terrestrial radio stations pay only about 4% of their revenue — a tiny fraction — to the songwriters who create that music."
GMR is not only seeking antitrust damages, they also want an injunction against 'the cartel' for anticompetitive content.
But what about Pandora, Spotify, YouTube, podcasts, Sirius, and iTunes?
But wait: consumers have more options than ever to listen to music.  If FM radio sucks, they can turn on Pandora.  If that isn't cutting it, they can go to Sirius XM satellite, or Pandora, or one of a million new podcasts.  That sounds like a serious problem for repetitive radio, especially over the long term.
It also pokes a serious hole in the cartel theory.  After all, cartels operate on control.  Pablo Escobar's Medellin Cartel functioned by controlling almost all the cocaine exported from the Colombian region.  There weren't a lot of choices for those choosing to distribute, snort, or whatever.
So what happens when people are getting a better high of a bunch of other things?
That's not just a theoretical musing, it's a core question in antitrust law.  Simply stated: lots of competitive options weaken alleged monopolies or 'cartels'.  Now, it's up to a judge to determine what the actual competitive market is — for both radio and songwriters.
To be continued.