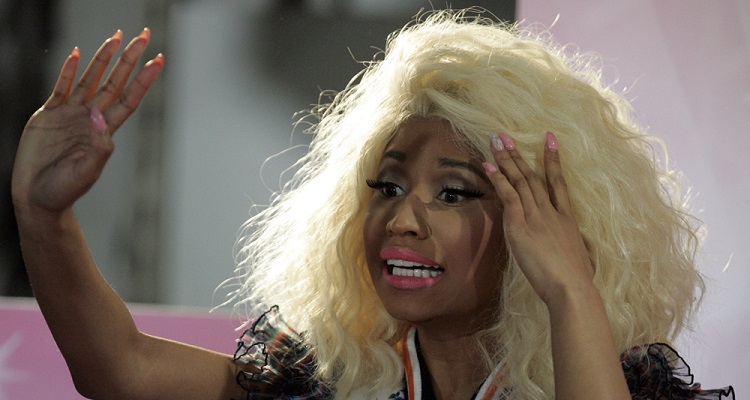 Continuing on the warpath, it appears Nicki Minaj has blamed everyone but her own performance and skill as an artist.
Nicki Minaj hasn't exactly had the best week.
After failing to reach No. 1 on the Billboard charts with the debut of her latest album, Queen, she lashed out at Spotify for allegedly retaliating against the singer.  Minaj accused the company of failing to honor an agreed-upon promotional campaign.  This, despite Spotify supporting the singer with a large billboard on Times Square.  In addition, the company had placed her album on New Music Friday and the new music release shelf, two very popular playlists.
She also blasted Travis Scott for reaching No. 1 on Billboard with his album, Astroworld.  According to Minaj, Scott confessed knowing "he doesn't have the #1 album this week."  Billboard, of course, noted Astroworld earned 205,000 equivalent album units.  Queen took the #2 spot with 185,000.
Evoking images of sexism in the workplace, she blamed her label, Republic Records for not doing enough to promote her album.  Without providing proof, Minaj said Republic feared Spotify's retribution over Ariana's upcoming album.
On Twitter, she wrote,
"Do you know how many women get systematically blackballed out of their positions in an office building & can't fight back?????"
Following criticism over her posts, she walked back her statements, calling it "sarcasm/dry humor."
Now, she's blamed the recent indefinite postponement of her North American tour with Future on influential music manager Irving Azoff.
But, does Minaj have a point?  Or, has she gone off the deep end of music stardom?
Several days ago, reports surfaced that Nicki Minaj had indefinitely postponed the North American leg of the NICKIHNDRXX tour.
Live Nation confirmed the news, announcing,
"Following her unforgettable VMA performance, Nicki Minaj has decided to reevaluate elements of production on the NickiHndrxx Tour… to contribute more time to rehearsal ahead of the tour's launch to make certain her fans get the absolute best quality show that they deserve."
The tour would've kicked off on September 23rd in Washington DC.  It will now start in Europe on February 21st, 2019 in Munich, Germany.  The tour will wrap up on March 28th in Geneva, Switzerland.  Her North American tour is expected to start in May 2019, only this time without Future due to scheduling conflicts.
Prior to the announcement, Minaj had used her Apple Music Beats 1 radio show to once again lambast Travis Scott.  This time, she went on the offensive against his wife, Kylie Jenner, and their baby, Stormi Webster.  Minaj confirmed she had 'beef' with the 6-month old baby.
According to Page Six, the singer had actually canceled her North American tour over poor sales.
A Live Nation source reportedly confirmed the company would've canceled the NICKIHNDRXX tour as ticket sales "were not just in the toilet, they were totally down the drain."
Hitting back against the rumors, she used her Instagram account to lambast one major media outlet – Billboard.
Minaj urged her fans – whom she calls Barbz – to "get me the name of this writer."  According to her, the writer bullied her into a corner using "fraudulent shaming tactics."
"I haven't CANCELLED anything.  I reversed the order of the US & EUROPEAN LEGS of my tour."
Calling out Billboard for allegedly posting click bait, the singer stated she needs 3 months to rehearse for her tour.  Due to the late release of her album, Minaj would've only had 4 weeks to rehearse.
"We are all grown right?  We can all do math right? … I can't rehearse 4 WEEKS for a tour I originally planned on rehearsing 3 months for.  I give my fans QUALITY."
Using her Beats Radio show to shame her perceived opponents, Minaj pinned the blame over the report on Travis Scott's manager, Irving Azoff.
She told listeners,
"The c—sucker of the day is Irving Azoff.  And I'm gonna tell you why.  Allegedly, he tried to put out a smear campaign against my tour, and contacted people in the media to spread negative things about my tour."
As with her allegations against Travis Scott over Astroworld's No. 1 spot on Billboard, Minaj didn't provide any proof.
Instead, she discussed his influence at Ticketmaster.
Minaj told her listeners,
"There are so many powerful people in this industry that have tried to keep me from speaking up and this Irving man who works over at Ticketmaster allegedly launched a smear campaign.  One thing I won't do is let anyone sit around and bully me into a corner.  Now, I know you have power and you have money — you have all those things — but I have loyalty and I have integrity.  And I have two things that a lot of you will never have — balls.  B-A-L-L-S."
Azoff exited Live Nation/Ticketmaster almost 6 years ago where he served as CEO.  In addition to managing Scott, he also manages other major stars in the industry, including Christina Aguilera, Gwen Stefani, and Harry Styles.
Minaj ended her rant, stating,
"May God be with you, Irving.  It's disgusting what these people have been systematically trying to do."
Azoff has yet to respond to the allegations.
---
Featured image by Eva Rinaldi (CC by 2.0)