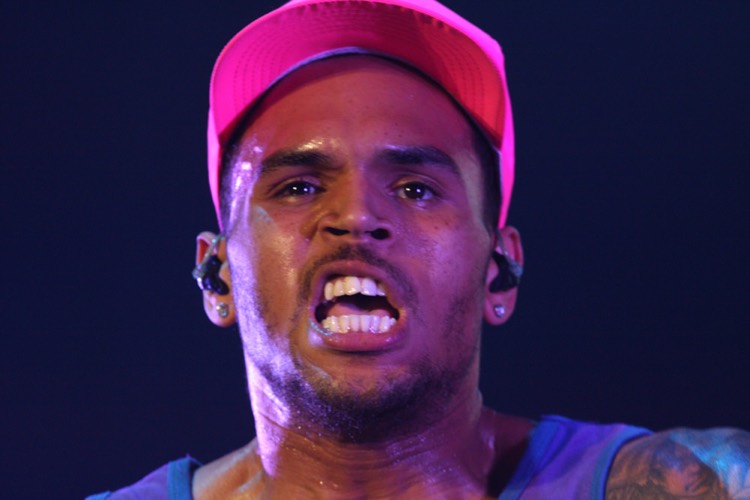 Chris Brown likes to beat the crap out of people when he's mad.  Now, someone's fighting back with a $1.5 million lawsuit.
Chris Brown's latest anger management mishap could cost $1.5 million, according to court paperwork.  The filing is coming from former manager Michael Guirguis, aka 'Mike G,' who caught a surprise beat-down while discussing routine business with the star.  Guirguis, who didn't appreciate getting the crap beat out of him, has just filed his case in the LA Superior Court seeking back-payments.
The lawsuit first emerged in June, with a hearing now scheduled for March 7th.  That's two months away, though its unclear whether Brown will show up.
+ Chris Brown Just Opened a Fashion Clothing Boutique In Amsterdam
The violent incident occurred earlier this year, when Guirguis was discussing an upcoming European tour with the singer.  According to the filing, Chris Brown then moved the conversation into another room, and leveled the manager with multiple punches.  The ambush was totally unexpected, with Guirguis forced to go to the hospital.
That raises troubling memories of Chris Brown's 2009 attack on then-girlfriend Rihanna.  The smackdown produced a garish image of Rihanna's battered face, and resulted in a felony conviction for Brown.  Rihanna missed the Grammys that year, yet Brown's career somehow recovered.
But this lawsuit goes far beyond the violent attack.  Guirguis alleges that Brown actively defamed his company, Nitevision Management, on his Instagram account.  In total, Chris Brown owes the company $1.5 million in commissions and fees, all of which remains unpaid.  "Although there can be no dispute that Brown owes Nitevision the unpaid commissions, he refuses to pay them," the filing alleges.
Brown bankruptcy?  Get ready.
Mike G is now moving to seize the $1.5 million in assets, based on concerns over a future insolvency.  In other words, get ready for a spectacular financial crash, courtesy of unsustainable spending habits.  "I have worked with Brown since 2012 and have seen firsthand Brown's lavish spending habits," Guirguis stated.  "Brown also travels on private jets domestically and internationally, and spends anywhere from $50,000 to $200,000 per trip."
+ Chris Brown, Lil Wayne Implicated In Massive 'Sizzurp' Drug Operation
But this gets worse, because Guirguis says that Chris Brown just lost a massively-lucrative income source.  According to the filing, Brown sabotaged a comfortable, Las Vegas-based gig at Drai's Beachclub and Nightclub.  That resulted in losses of $3 million a year, based on childish behavior.
Image by Eva Rinaldi (CC BY-SA 2.0)