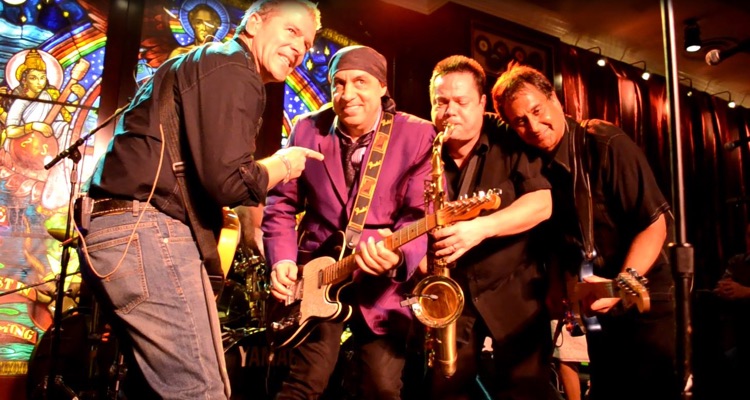 The 'B Street Band,' a Bruce Springsteen cover band, has now dropped out of the Trump Inauguration.  The pullout follows massive pressure from fans, as well as members of the 'E Street Band'.
It's a fun band from New Jersey that gets lots of gigs.  And they do it all in honor of Bruce Springsteen and the E Street Band.  Now, the 'B Street Band' is pulling out of a pre-Inaugural party under extreme pressure and controversy.
And Bruce didn't even have to send a tweet.
The 'Jersey boy' party band was slated to play the Garden State Inaugural Gala, with Chris Christie named honorary chair.  That is one of several parties and events leading up to the presidential swearing-in ceremony, slated for January 20th.
Initially, the B Street Band defended the gig as a non-partisan show.  Indeed, the New Jersey-focused event was actually coordinated in 2013, before Donald Trump was even a recognized contender.  Of course, those details were quickly thrown under the bus, along with the hapless band.
Late Monday, B Street Band frontman Will Forte offered this statement to fans:
"With deepest apologies to our fans and the New Jersey Inaugural Ball committee, the B Street Band is withdrawing from performing at this year's inauguration Gala.
Our decision is based SOLELY on the respect and gratitude we have for Bruce and the E Street Band.
Bruce's music has been the foundation of our livelihood. The B Street Band would not exist without the talents of Bruce and our E Street brothers.
We are most grateful to these rock legends and look forward to many more years of emulating and performing the Forever Music, of Bruce Springsteen."
Bruce Springsteen is a staunch critic of Donald Trump, but didn't weigh in on the B Street controversy.  But E Street members, including Steven Van Zandt, questioned the move.  "Nice guys. Met them," Van Zandt tweeted.  "I wouldn't say right or wrong. Up to them. But it's naive to think one can separate Art and Politics. Art IS Politics."
"Please tell me this is more fake news. Or at least a joke," E Street founding bassist Garry Tallent blasted.
The B Street decision follows a high-profile pullout by Jennifer Holliday after howls of protests.  Holliday was heavily pressured by the LGBT community, which feels incredibly threatened by Trump's oncoming presidency. "I sincerely apologize for my lack of judgment," the Broadway star stated less than 24 hours after announcing her involvement.
Others are a go, including Toby Keith.  The late-committing country artists has 'refused to apologize' for his involvement.
More as this develops!